STORY HIGHLIGHTS
Survivors in Indonesia left with flattened villages following tsunami
Ten meter wave swept away many of their loved ones
Doctors in makeshift hospitals and others helping with aid effort
Monai, Indonesia (CNN) -- The first thing you notice is their eyes. Dark misery and utter incomprehension at the horror they have been through.
It's the same intense stare that questions why they survived and others didn't that I saw in the eyes of Sri Lankans after the 2004 tsunami that killed at least 225,000 people.
Doctors in the makeshift hospitals and those helping with the aid effort work tirelessly, happy to be kept busy and to be helping.
Nudayanti fights for every breath -- squirming in pain as the doctor gently pulls the old dressing from a gaping wound.
She's 12 years old. Her IV drip hangs from a piece of string tied from one side of the room to the other. A basic camp bed keeps her just a few inches off the floor.
Doctors fear her chances of survival, if she can't get to a proper hospital and an intensive care unit, are minimal.
"Slim to none," says Alyssa Scurrah, a volunteer Australian doctor talking about her chances. "She won't survive if she stays here even with the strongest antibiotics."
Nudayanti's mother, Warna, won't let go of her even for a second, brushing her hair back, fanning her face with a piece of cardboard, holding her still as the gauze pulls away from her infected wound.

Video: Survivors struggle in tsunami's wake

Video: Tsunami kills 30 in one village

Video: Indonesia quake explained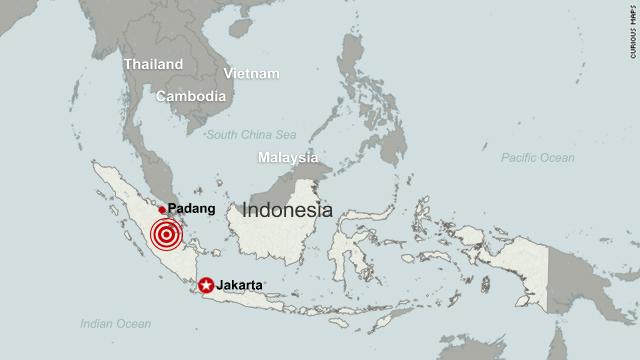 Map
Warna has lost her husband and five of her seven children to the tsunami -- she refuses to lose this child too.
Nudayanti's chest wound has turned sceptic. Scurrah says they have no oxygen to help her breathe, no morphine to kill the pain, no specialized surgeon to operate.
"All I want is to raise her, for her to be with me," says Warna.
Nudayanti's case is not unique -- every patient crammed into this small overwhelmed health clinic has a horrifying story and a dazed expression of bereavement.
One miraculous survival amidst the misery, a three week old baby is gaining strength in a cot, but he's now an orphan.
Hundreds of injured have come to Sikakap, the local church has been converted to a makeshift hospital. The beds here are all taken, so the newcomers are treated on the floor. Doctors rush around trying to help as many patients as they can with limited medicine.
Piercing screams from children being treated are a heart-breaking reminder that serious painkillers are a luxury not given to the victim's of Indonesia's latest tsunami.
For the victims, still living in their flattened villages, the doctors and aid workers are equally helpless. There is little to do but look at what was once their home and relive the horrifying moment a 10-meter-high wave hit and swept away their loved ones.
Village vanishes in wake of tsunami
Saluhu, who lost his nine year old son, wants to show me where his house was -- all you can see now are the foundations.
He wants to show me the mass grave where he believes his son is -- his neighbor tells him he buried him there.
And he wants to tell me over and over again how his son's hand slipped from his wife's grasp as they fled the wall of water. He repeats the word "slipped," sliding one hand over the other, to show how such a simple movement destroyed his life.
He shakes our hands as we leave and holds onto mine a second longer with pleading eyes. We are the first on the ground in this devastated area -- he doesn't know when others will arrive. Some food and water has been dropped from a helicopter.
If walking away from such pain doesn't break your heart, nothing will. All I can do is tell his story so others can feel a fraction of his pain and try to help.
FOLLOW THIS TOPIC