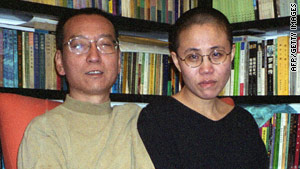 Liu Xiaobo, a leading Chinese dissident, and his wife, Liu Xia, are seen in the 2002 photograph.
STORY HIGHLIGHTS
The man has been charged with inciting subversion of state power
Nobel peace laureate Liu Xiaobo was convicted of the same charge
A rights group calls the arrest groundless
"He was just expressing his opinion to other people," he said
Beijing, China (CNN) -- Police in southern China have arrested a man who was distributing fliers about newly minted Nobel peace laureate Liu Xiaobo, a rights group said.
Authorities in Guangzhou arrested engineer Guo Xianliang on October 28 and have charged him with inciting subversion of state power, said China Human Rights Defender, a Hong Kong based human rights organization.
"We're against Mr. Guo's detention," said Wang Songlian, the group's spokeswoman. "This is groundless. He was just expressing his opinion to other people."
Guo, who is thought to be in his 40s, was publicizing Liu's Nobel victory.
The Nobel Committee outraged Beijing last month when it chose Liu, who co-authored Charter 08, a petition calling for political reform. Liu is serving an 11-year sentence for inciting subversion of state power, the same charge that Guo faces.
The engineer was on a business trip in Guangzhou when he learned that Liu had won, said friend Ye Du. The engineer celebrated with friends, then suggested doing something practical.
He then made several hundred fliers, which featured a profile of Liu and was titled, "Liu Xiaobo, A Name We Should Be Proud Of." The engineer was distributing the fliers on the street, Ye said.
Before his arrest, Guo had written extensively about democratic reform, according to the rights group's website.
The engineer's wife, Yang Di, declined to comment.
Guo's wife received a phone call on November 2 from a Guangzhou police officer, informing her of the engineer's detention, according to family friend Liu Shihui.
Police in Guangzhou did not respond to requests for comment.
The Chinese government has condemned the Nobel committee for honoring Liu, calling him a criminal.
After Liu's win, Chinese police briefly detained or put under house arrest several Liu supporters and other activists, including his wife, Liu Xia, the China Human Rights Defender said. Guo is the first Liu sympathizer to be criminally detained, though.
"We're worried that his case means the start of severe suppression of human rights activists in China," said Wang, of the rights group.
"I think he is detained because he tried to let more people know about Liu Xiaobo. It's also a sensitive timing because of the upcoming Asian Games," Wang said.
Guangzhou is hosting the 2010 Asian Games, which open next week. City authorities have stepped up security ahead of the event.