STORY HIGHLIGHTS
"It's raining volcanic ash and rocks," one aid official says
Friday's victims bring the total to 113 killed
Indonesia's president calls the volcano a "crisis situation"
Share your images and stories with CNN iReport.
Jakarta, Indonesia (CNN) -- Indonesia's Mount Merapi has belched ash clouds and gas over the last 24 hours, prompting thousands of ash-covered people to bolt for cover and dogged efforts by rescuers to get the elderly to safety.
It's being called Merapi's largest eruption so far, unleashing ash clouds and gas that have reached villages in areas many thought were safe from the volcano's eruptions.
The latest eruption Friday killed at least 69 people and injured 77 others, hospital officials said. In all, as many as 113 people have died since Merapi began erupting October 26.
Local television showed men, women and children fleeing from their homes on motorcycles and trucks. Rescuers carried elderly people to safety. Evacuees huddled in a stadium, government buildings and schools.
The children's charity Plan International has launched an appeal to help 20,000 people fleeing the mountain.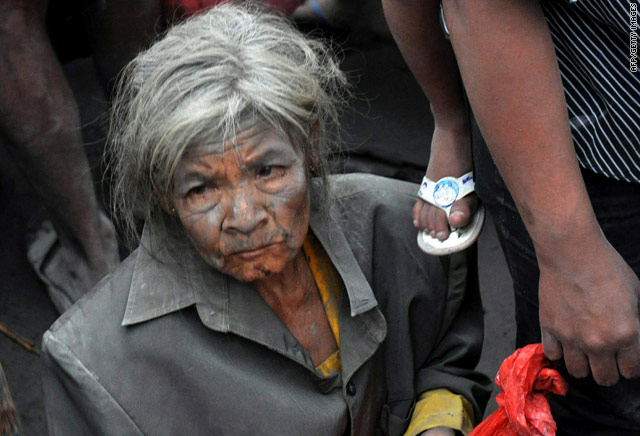 Gallery: Death toll rises as volcano spews ash

Mount Merapi volcano death toll rises

Sky blanketed with ash by 'Ring of Fire'

Volcanic activity in Indonesia
"It's raining volcanic ash and rocks," said Nono Sumarsono, acting country director of Plan International. "Small rocks can reach nearly 10 miles away and ash 20 miles.
"Its booming explosions are keeping people on alert day and night," Sumarsono said.
"The danger zone has been widened and a large influx of displaced people are coming further down to new evacuation centers," he said.
"People were fleeing in panic and only have what they could carry," Sumarsono added.
He said there is an urgent need for food, water, mats, blankets and hygiene kits -- items that the group is already distributing. Workers are also in the process of getting emergency latrines and setting up temporary schools for children.
The danger zone was expanded to 20 kilometers (12 miles), after Friday's eruption reached villages once believed safe. Nearly 75,000 people have been evacuated, according to Indonesia's National Disaster Management Board.
Rescue teams scoured villages and found burned bodies inside homes. Body bags were lined up at a hospital morgue, where, doctors say, it will take some time to identify the victims.
Thousands of meals were being provided by relief agencies to evacuees who continue to be on the move as the ash cloud spreads. Yogyakarta city, about 30 kilometers south of Mount Merapi, is bracing for an influx of thousands.
President Susilo Bambang Yudhoyono called the volcano a "crisis situation" and said he would travel to the area Friday.
Yudhoyono instructed the military to assist relief efforts by building facilities and field hospitals in the area, and he ordered the Coordinating Ministry for People's Welfare, which oversees several ministries, to coordinate faster and more efficient relief.
The president announced that residents will receive compensation for livelihoods and animals lost to the eruptions. The government will buy endangered cows on the volcano, he said. Many of those who live on its slopes raise cattle and risked their lives by staying or returning to feed their cows.
Mathias Eick, regional information officer with the European Commission's humanitarian aid department, said Friday that many residents were expecting a minor outbreak but the eruptions have become much worse, especially in the last 24 hours.
"This is a major humanitarian crisis," he said.
He said displaced people have repeatedly evacuated as the ash cloud spreads. He described the clouds cascading down the volcano mountain as very hot and dangerous and sounding like a runaway train.
Lava balls have rained down on villages and houses have burned, Eick said. Streets and cars are covered in ash, and people are wearing face masks.
In Yogyakarta, the closest big city to the volcano, all the forces of society have geared up to help provide relief, from the army and police to nongovernmental organizations and volunteers, Eick said.
"It's quite amazing to see," he said. "The society is used to catastrophe. They are really now coming together."
The 3,000-meter (9,800-foot) Merapi is famously unpredictable. An eruption killed two people in 2006 and another killed more than 60 villagers in 1994. About 1,300 people died when Merapi erupted in 1930.
In addition, last week a 7.7-magnitude earthquake hit Indonesia's coast, triggering a tsunami and killing at least 449 people. Hundreds more were injured.
CNN's Joe Sterling contributed to this report.
FOLLOW THIS TOPIC