Indonesian volcano spews more scorching ash; death toll reaches 156
STORY HIGHLIGHTS
NEW: Gas, ash, pyroclastic flows at Mt. Merapi continue Sunday
An estimated 200,000 people are displaced by the eruptions
156 people have died since the volcano started erupting on October 26
Disaster mitigation agency: Ash columns reach 6 kilometers (3.7 miles) high
Are you affected by the volcano? Share your stories and photos.
Jakarta, Indonesia (CNN) -- Indonesia's Mount Merapi volcano continued to rumble and emit bursts of blisteringly hot gas and dust Sunday, as the death toll from recent eruptions pushed higher.
At least two large pyroclastic flows were spotted on the southern side of Mount Merapi during the afternoon Sunday.
A pyroclastic flow is a fast-moving burst of extremely hot gas and rock fragments. One such flow from Mount Merapi killed two people in 2006 and another killed more than 60 people in 1994.
The large clouds of gas and dust in the sky forced flight cancellations into and out of Yogyakarta. Explosions from the volcano could be heard in the suburbs of the city, some 20 kilometers (12.4 miles) away.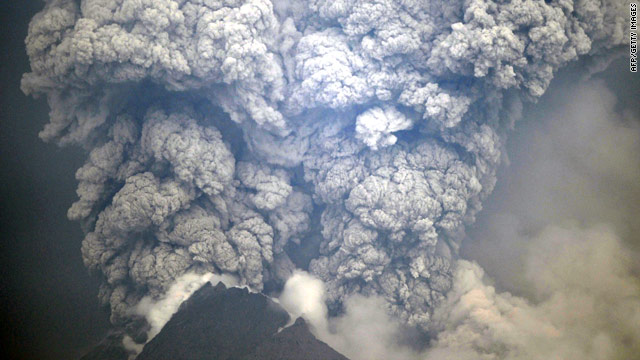 Gallery: Death toll rises as volcano spews ash

People flee Mount Merapi's fury

Sky blanketed with ash by 'Ring of Fire'

Volcanic activity in Indonesia
That falls within the limits of Mount Merapi's danger zone. Indonesia's Volcanology and Geological Disaster Mitigation Agency has expanded the zone to 20 kilometers after Friday's deadly eruptions. Villages were affected that many thought were safe. A spokeswoman for Sardjito Hospital in Yogyakarta said some of the victims lived 10 to 20 kilometers away from the volcano.
At least 156 people have died since Merapi started erupting on October 26, said Sigit, a doctor at Sardjito hospital. Many Indonesians go by one name.
Relief agencies such as Plan Indonesia estimate about 200,000 people have been displaced.
President Susilo Bambang Yudhoyono was in Yogyakarta on Sunday with several of his ministers to oversee relief efforts.
The president has announced that residents will receive compensation for livelihoods and animals lost to the eruptions. Yudhoyono said the government will buy endangered cows on the volcano. Many of those who live on its slopes raise cattle and risked their lives by staying or returning to feed their cows.
The Volcanology and Geological Disaster Mitigation Agency reports ash columns towering up to 6 kilometers (3.7 miles).
Data from the Indonesian Volcanology Technology Development and Assessment Agency indicated that a hot ash cloud that had hit a village near the crater was around 450-600 degrees Celsius (842-1,112 degrees Fahrenheit).
The 3,000-meter (9,800-foot) Merapi, in Central Java, is famously unpredictable. About 1,300 people died when Merapi erupted in 1930.
In addition, last week a 7.7-magnitude earthquake hit Indonesia's coast, triggering a tsunami and killing at least 449 people. Hundreds more were injured.
Journalist James Reynolds and CNN's Andy Saputra contributed to this report.
FOLLOW THIS TOPIC