STORY HIGHLIGHTS
Ultra-small house built on land the size of a parking space
Fuyuhito Moriya lives in the house with his mother
Costing $500,000, home reflects the high price of land in Tokyo
(CNN) -- Fuyuhito Moriya is 39 and still lives with his mother, but in circumstances you would call a tad unusual.
Moriya, an unmarried man, and his mother, Yoko, live in a house that's built on 30 square meters, that's the same as the size of a parking space for one car.
They live in what's called an ultra-small house, a genre of single family homes bred of Japan's economic stagnation and brought to life by architectural ingenuity.
How are you cutting back? Share your stories, photos and videos
Moriya wasn't sure that the land, which was originally sold as a parking space for a car, would be big enough for a single family home. But when he started doing research into ultra-small homes, he began to realize it might work.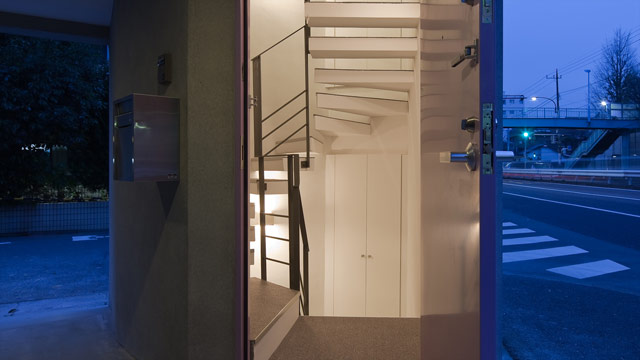 Gallery: Japan's ultra-small home
Privacy is a problem. I simply appreciate the fact that we have built our house on this land.
--Fuyuhito Moriya, ultra-small homeowner
"My imagination was that it should be doable to build the rooms virtually on top of each other instead of side by side," says Moriya. "So I thought that it might be possible, but I wasn't really sure if it's actually possible."
Standing in his home, which is about the size of an American walk-in closet, Moriya triumphantly says it's not just possible, it's livable.
South-facing, large windows create the illusion of space. Minimal furniture and clutter keep the small home tidy. Hideaway cabinets for kitchen appliances and half size sinks shrink expected space.
Even the spiral staircase shaves inches, drawn as a triangle instead of a circle, slashing the space's diameter. The corners of the staircase become small closets, to stash shoes.
"Every single corner is used," says Moriya.
He spent approximately $500,000 to build his home, a bargain for a brand new home in Tokyo, one of the world's most expensive cities. Moriya could have rented a bigger apartment, but he desperately wanted to be a homeowner. With a limited budget but a desire to be a landowner, Moriya found his compromise.
"Size is not that important," he says. "More important for me is the atmosphere, the surroundings and the neighborhood. You reside in the building, but I'm focused on living in a particular area and environment. So the size of my home isn't as important as that."
It's a sentiment shared by a growing population of aspiring homeowners in Tokyo.
Architect Junichi Sugiyama of Side Architects says ultra-small homes now make up 70 percent of his company's business. And not because it's trendy, he says.
"There are not that many people who have a big budget," says Sugiyama.
"So if you want to have your own house but can't afford it on an average salary, you have to have a small place because land value is really high in Tokyo."
The result, he says, is fewer people building normal sized homes on typical lots. For architects, it's a creative challenge to cope with the new normal in home design.
"I don't really feel a limit," says Sugiyama, when asked if a space is ever too small.
"There are things you can do as an architect, simply because you're working with a small space. I believe you really can build a house on any sort of tiny space."
Moriya has lived in his ultra-small home for six months. Privacy has proven a challenge, he says, since he and his mother can't exactly escape each other in their super small house.
"That's indeed a problem. For now, I simply appreciate the fact that we have built our house on this land. The privacy issue will be our next task to solve," he says.
FOLLOW THIS TOPIC