STORY HIGHLIGHTS
One-third of the developing world's urban population lives in slums, according to U.N. Habitat
The world's slum population is forecast to grow by six million a year
The proportion of city dwellers living in slums has fallen to 33 percent from 46 percent in 1990
(CNN) -- Jockin Arputham has been a slum dweller for 43 years, one of more than a million across India.
He shares a 30-hectare (72-acre) plot of land on the outskirts of Mumbai with about 70,000 other people, with communal toilets and self-built homes.
Arputham, 64, started advocating for rights for slum dwellers 40 years ago when he was threatened with eviction.
"How could I be silent when my slum was going to be demolished and we were going to be made homeless?" Arputham explained to CNN.
Arputham is now the president of Slum Dwellers International, a confederation of urban poor in 28 national organizations, and his campaign is as relevant as it was 40 years ago.
A third of the urban population in developing regions lives in slums, according to U.N. Habitat, the United Nations department that focuses on urban development.
How to handle these makeshift settlements -- which often are overcrowded, lack adequate water supply and sanitation and whose residents' land rights are usually insecure -- is a challenge facing cities around the world.
Scroll over the interactive above to get a snapshot of slum populations in 14 countries around the world.
It's a problem that isn't going away. U.N. Habitat forecasts that the number of slum dwellers in the world will grow by 6 million a year and reach 889 million by 2020.
"First of all, city authorities need to acknowledge they have a slum problem and set targets for how to reduce it," said Eduardo Moreno, head of U.N. Habitat's Global Urban Observatory.
"Many cities automatically respond that they don't have slums or that they are very small, but data from U.N. Habitat shows it's more than the city authorities like to believe."
Moreno says governments need to invest heavily in reducing urban poverty and involve communities in their programs to improve slum conditions.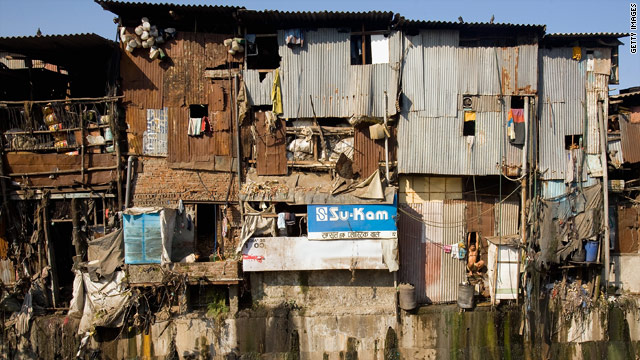 Gallery: Slums of the world
Progress is being made. Across the developing world, the proportion of city dwellers living in slums has fallen to 33 percent from 46 percent in 1990, U.N. Habitat says, mainly through upgrading slums.
However, while the proportion in slums has fallen, the absolute number of people living in them has risen because of rapidly growing urban populations.
To reduce the absolute numbers, "you need to not only improve the slums but create conditions to prevent new slums forming," Moreno told CNN.
"National, regional and city authorities need to work together to predict growth of cities and provide affordable land and housing for migrants to move into," he added.
China, for instance, has reduced the proportion of its urban population living in slums by a quarter since 2000 by offering tax breaks to developers who build affordable homes, according to U.N. Habitat.
National, regional and city authorities need to work together to predict growth of cities and provide affordable land and housing for migrants to move into.
--Eduardo Moreno, U.N. Habitat
"The government has gradually been demolishing these areas and building new homes for people to move into," said Yiyi Lu, an expert in Chinese politics and social development at London-based think tank Chatham House and a research fellow at the University of Nottingham.
There are still large numbers of migrants living in relatively cheap accommodation on the outskirts of cities, she said, "but it is proper accommodation with basic facilities and is not concentrated in large scale areas."
But clearing slums and rehousing their residents elsewhere isn't a long-term solution, says Jeb Brugmann, an urban development consultant and author of "Welcome to the Urban Revolution."
"There is no history of success in clearing slums and moving the people somewhere else," he said.
Instead, he argues, governments should concentrate on improving the conditions of slums, which he prefers to call "migrant cities."
He told CNN: "The fact that low-income people save money and use their own labor to create urban settlements is not bad. What's bad is when governments don't help them."
When offered the proper support, slums can become very "robust, resilient, economic districts," Brugmann said, pointing to Brazil's approach to its slums, also known as favelas.
Brazil has brought basic services, such as drainage, water, schools and health clinics, to its favelas. It's also helping residents who have brought their dwellings up to the standard for municipal buildings get legal titles to the land.
It's also helping get rid of gangs "so the police can have a stable relationship with the communities and people are not living in fear of organized criminals," Brugmann said.
Arputham agrees that governments should be helping slum dwellers gain legal rights to their land. He advocates for allowing communities to be involved in decision making.
"We need community-based projects with government support to improve our slums," he said.
India has been doing that, U.N. Habitat says, citing its efforts to build skills among the urban poor and provide basic services and secure tenure to unauthorized settlements.
Consequently, its figures show the percentage of the urban population living in slums in India has been reduced to 28 percent from 41 percent over the past decade.
But the view from the slums is quite different.
Arputham is skeptical of the figures and says he hasn't seen those measures implemented.
"The government keeps talking, but I differentiate between talking and doing," he said. "They talk very well, but the doing is limited."
FOLLOW THIS TOPIC