STORY HIGHLIGHTS
Chongqing is one of the world's fastest-growing cities
The megacity's economy grew 15 percent in 2009, almost double the national rate
Chongqing is now home to 32 million people -- four times the entire population of London
The local government invested $150 billion on infrastructure projects this year alone
Chongqing, China (CNN) -- Zhou Xunshu and Yan Qi both grew up in the mountains in southwestern China, but today their hometowns are worlds apart.
Zhou's home village in a remote corner of Guizhou province remains impoverished.
"Every time I go back, I feel saddened," said the 37-year-old professional golfer. "It was poor and it's getting poorer."
Yan's childhood town, on the other hand, is now a suburb of one of the world's fastest-growing cities, Chongqing.
"I started a small restaurant here in 1995 with five tables," the 43-year-old businesswoman told CNN. "We went from there to 10 tables and eventually to 90 restaurants nationwide."
"My restaurants expanded along with the city," she said.
Chongqing has expanded at a remarkable pace since 1997, when Chinese leaders awarded it special political status on par with Beijing and Shanghai.
A metropolis the size of Austria, Chongqing is now home to 32 million people. That's four times the entire population of London and 10 times that of Rome.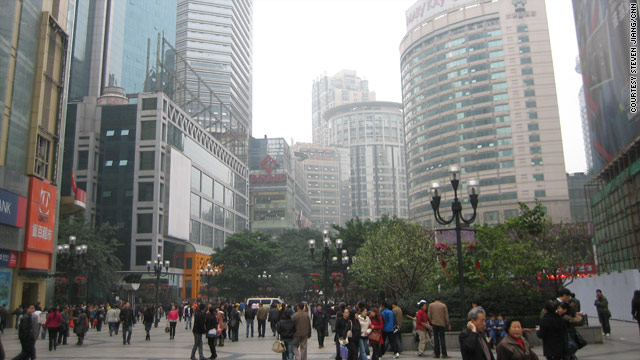 Gallery: Chongqing: Chinese megacity
The pace of growth in the city accelerated after the central government announced in 2000 its "Go West" strategy to develop the country's vast hinterland. Last year the economy of Chongqing -- long a major port on the Yangtze River -- grew 15 percent, almost double the already impressive national rate.
Now, the once rusty industrial city surrounded by mountains attracts thousands of new residents every year -- including Zhou, who moved here five years ago.
"Chongqing was growing and the golf industry was about to take off," Zhou explained. "This was the kind of city to settle in because I could build a career here."
Workers are busy at construction sites throughout the city, with the local government investing some $150 billion on infrastructure projects this year alone.
People have become rich here and their spending power is higher.
--Tang Ka Wah, Shui On executive
As expressways and skyscrapers fast replace farmland in its surrounding countryside, Chongqing has become the prime example of rapid urbanization in China, where experts say, by the end of 2015, more than half of the country's 1.3 billion people will live in cities for the first time.
That prospect has drawn property tycoons to prize markets like Chongqing. Hong Kong's Shui On Land is behind one of the city's glamor developments, turning a riverside district dotted with bankrupt factories and rundown houses to a glitzy residential, commercial and entertainment hub.
Called Chongqing Tiandi, Shui On's project blends the old and the new -- housing luxury boutiques and high-end restaurants in traditional gray-brick buildings with tiled roofs. Future plans call for a 105-story skyscraper but the current phase already includes an eye-catching centerpiece -- a bar-cum-nightclub featuring three live sharks flown in from New York.
"People have become rich here and their spending power is higher," said Tang Ka Wah, the Shui On executive in charge of Chongqing Tiandi. "That's why the growth rate for second-tier cities is now so fast."
Real estate prices are one barometer for such supercharged growth. Official statistics show a downtown apartment in Chongqing sells for about $1,000 per square meter, nearly triple the price from 2005. It's still a bargain compared to top cities like Beijing, where the prices are at least five times higher, making the potential return handsome with the right investment.
"In the next three to five years, making your money double is very achievable," said Eddie Ng, a real estate consultant with Jones Lang LaSalle.
Like elsewhere in China, Chongqing's breakneck economic growth has cost the environment and left many residents behind. The city's per capita GDP hovered just above $3,300 last year.
Long dubbed the "Foggy Capital," Chongqing is now often shrouded in heavy smog. A massive tree-planting campaign spearheaded by the local authorities has breathed new life into the city, but hasn't addressed the root cause of pollution.
Bo Xilai, the city's Communist Party chief and a rising national political star, has also waged a controversial battle on organized crime, earning him some praise but also strong criticism for his heavy-handed tactics.
Despite its problems, Chongqing continues to appeal to natives and newcomers alike.
From that five-table eatery known for its signature spicy river snail dish, Yan has since built a restaurant empire and amassed a fortune worth more than $200 million. Sitting in her office inside a sprawling hilltop dining and entertainment complex developed by her company, she sets her sights outside China.
"After I sort out my domestic business plans, I would love to expand overseas," she said. "My first stop would be the United States."
For Zhou, his life in Chongqing is already a far cry from his humble beginnings -- a farmer's son turned security guard on a golf course, where he first discovered the sport but didn't start practicing until the age of 28.
He now makes about $30,000 a year and lives with his wife and son in a spacious three-bedroom apartment he bought three years ago.
"My goal is not just for me, but for my family," he said. "I want my son to get a better education, to study abroad if he wants.
"If he likes golf, I want to make enough money to send him abroad," he added.
Zhou and Yan are the faces of success in the new Chongqing, where local officials have lofty goals for the megacity's future and already have an ambitious nickname for it to match: "Chicago on the Yangtze."
FOLLOW THIS TOPIC