Celebs, media vie to see WikiLeaks founder in court
STORY HIGHLIGHTS
Assange breezes into back entrance of courthouse, avoiding media

Courtroom filled with media and celebrites

Assange shows little emotion; gives his address

Judge denies bail, citing Assange's "nomadic lifestyle"

What do you think about WikiLeaks? Sound off with your opinion at CNN iReport.
London (CNN) -- The Westminster Magistrates Court was ill prepared for the media scrum that landed on its doorstop on Tuesday. That's when police confirmed that WikiLeaks editor and founder Julian Assange had voluntarily turned himself in and was now under arrest.
Swarms of cameras, microphones and reporters with earpieces dangling were buzzing around outside the court, trying to figure out which entrance Assange and his legal tem would use.
Despite the media scrutiny, Assange managed to whiz past in a car and straight into the back entrance of the courthouse with hardly a photo being taken.
His lawyer, Mark Stephens, was not so lucky: Mobbed the moment he appeared at the front door, though he seemed unruffled by the attention. He sported a dark suit with pink pinstripes and a tie dotted with a skull-and-cross bones motif. A nod to the Pirate Party (a Swedish political party) that has supported WikiLeaks perhaps, I asked? No, more like Alexander McQueen, he replied.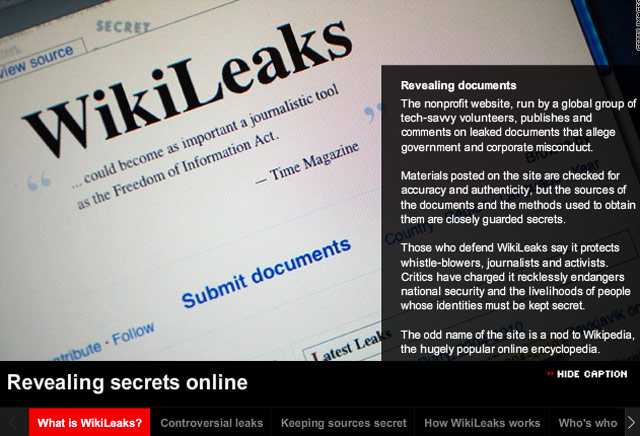 What is WikiLeaks? Here's how it works

WikiLeaks lists key U.S. interest sites

U.S. vs. WikiLeaks

WikiLeaks conspiracy theories
Inside, it was standing room only as reporters crammed into the small courtroom. A buzz went through the gallery as Jemima Khan, the ex-wife of former Pakistani cricket star Imran Khan, took her seat. Clearly, few expected to see a bona-fide celebrity at the proceedings today. Journalist John Pilger and British film director Ken Loach also offered to post money for Assange's bail -- indications perhaps that Assange may soon become a cause celebre.
But the main event was Assange. He showed little emotion as the hearing played out. When the court asked for his address, he gave a cagey reply: "For correspondence or other purposes?" he asked. He initially gave a PO Box before reluctantly scribbling down an address that was read out loud by a court recorder.
Judge Howard Riddle denied Assange bail, citing, among other issues, the "nomadic lifestyle" of the man behind WikiLeaks. He also repeatedly stated that this hearing was "not about WikiLeaks." Actually, once he said, this was "not about Wikipedia," setting off a few snickers from reporters.
This was the first time the details of the alleged sex crimes Assange faces were revealed in court. Among them, use of force and two charges of unprotected sex without a condom, despite the women's insistence that he use one. Reporters looked at each other trying to figure out the details of Swedish law.
The proceedings ran under an hour. There was genuine surprise when Riddle announced there would be no release on bail and Assange would be spending his time in jail until December 14.
When the police van carrying Assange pulled out of the courthouse, a media pack was waiting. Cameras flashing, microphones flying, and dozens of supporters shouting cries of: "We love you!" and "Julian Assange is a political prisoner." They ran after the van hoping to catch a glimpse of the once-elusive founder of WikiLeaks.
FOLLOW THIS TOPIC


Part of complete coverage on

What next for WikiLeaks editor and founder Julian Assange, now that he's been released on bail in the UK?

Julian Assange says the sexual misconduct charges against him are little more than an effort to discredit him and his organization.

WikiLeaks editor walks out of London court after being freed on bail nine days after being arrested for questioning about alleged sex crimes in Sweden.

In 2006, Julian Assange was apparently looking for a date. After launching WikiLeaks, he evidently created a profile on OkCupid.com.

A court in London found itself in the world's spotlight, as a small army of celebrities turned up to offer support -- and bail money -- to Julian Assange.

The founders of Openleaks.org say they are former WikiLeaks members unhappy with the way the organization is being run under Julian Assange.

Hackers who support WikiLeaks want others to replicate the attacks they say took down the websites of MasterCard and Visa.

Does Julian Assange's threat to release "Doomsday Files" from Wikileaks carry validity?


Today's five most popular stories