Top Chinese envoy meets with Kim Jong Il about peninsula tension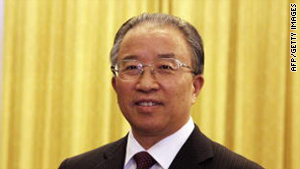 China's top foreign policy official Dai Bingguo.
STORY HIGHLIGHTS
NEW: Mullen calls North Korea's behavior "reckless"
The meeting between the two nations is the first since the flareup
Official: "The two sides reached consensus"
Mullen challenges China to use its influence with North Korea
(CNN) -- China's top foreign policy official met with North Korean leader Kim Jong Il Thursday and the two sides "reached consensus" about defusing tensions on the Korean peninsula, officials said.
The meeting marks the first between Kim and a top official from China since the flareup between the two Koreas.
"The two sides reached consensus on bilateral relations and the situation on the Korean Peninsula after candid and in-depth talks," said Chinese foreign ministry spokeswoman Jiang Yu.
She did not elaborate on what Kim discussed with the official, Dai Bingguo, during the latter's visit to Pyongyang.
Tensions on the Korean peninsula escalated following North Korea's shelling of South Korea's Yeonpyeong Island last month, as well as the March sinking of a South Korean warship -- allegedly by a North Korean torpedo -- and recent revelations that it is enriching uranium for nuclear weapons.

Tokyo's concerns over North Korea

China urges caution on North Korea

Clinton concerned about N. Korea attacks
North Korean officials have been pushing for the resumption of six-party talks including China and Russia.
China has also called for "emergency" talks among all the six countries -- North Korea, South Korea, China, the United States, Japan and Russia -- to address the tensions on the Korean peninsula.
But the United States has thus far refused, looking first for proof that North Korea is serious about not stoking military tensions and serious about stifling development of its nuclear program.
For the second day in a row, the head of the U.S. Joint Chiefs of Staff called on China to use its influence instead to rein in North Korea to prevent a full-blown crisis. China is North Korea's strongest ally and largest trading partner.
"I actually believe that because these provocations continue and seemingly at a frequent interval, that the danger is going up and that steps must be taken to ensure that they stop," he said at a news conference in Tokyo.
"Much of that volatility is owed to the reckless behavior of the North Korean regime, enabled by their friends in China."
CNN's Jo Kent contributed to this report
FOLLOW THIS TOPIC