Civilians killed in Afghan fighting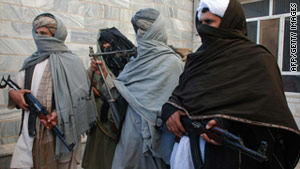 Surrendering Taliban fighters stand with their weapons in Herat on December 5.
STORY HIGHLIGHTS
Official: 7 construction workers were mistakenly killed in a NATO-Afghan military operation
The official says forces were working to arrest a suspected insurgent
14 are wounded in a Kunduz suicide attack
6 are hurt in a Kandahar bombing
Kabul, Afghanistan (CNN) -- Seven people thought to be civilians died in an eastern Afghanistan military operation, and bombers targeting security forces in the north and the south left several people wounded, authorities told CNN on Saturday.
The fighting erupted on Saturday as NATO-led forces pressed on against militants in the Afghanistan, a battle-scarred country that U.S. Defense Secretary Robert Gates called "tough terrain" this week.
It also comes a day after 15 civilians were killed and four others were wounded when a roadside bomb ripped through a village in Helmand province.
The latest incident occurred in Paktia province, where Abdul Rahman Mangal, the deputy provincial governor, told CNN that seven road construction workers mistakenly killed in a joint NATO-Afghan military operation.
He said forces were working to arrest a suspected insurgent who was near the people.
"The suspected insurgent was arrested, and investigation is under way to getting more details," Mangal said.
NATO's International Security Assistance Force said it is investigating allegations that the dead civilians were seven members of a private security company.
ISAF said the force was hunting down a militant linked to a recent suicide attack at a base near Gardez City.
After the militant -- a member of the Taliban-linked Haqqani network -- was detained, the forces "moved to a follow-on target nearby to investigate suspected insurgent activity," ISAF said.
Using a bullhorn and speaking in Pashtun, occupants of a targeted vehicle and compound were told to leave peacefully.
"During the call-out, a male exited an SUV with an AK-47 and moved toward the security force. The security force assessed the individual to be hostile and shot him. Multiple other armed individuals then engaged the force, which resulted in a total of seven individuals killed," ISAF said.
The security force is looking into who the people were, why they were armed, and why they were in the area, ISAF said.
Violence also ripped through Kunduz province, an increasingly unstable region of northern Afghanistan where militant and criminal violence has increased lately.
A suicide attacker targeted an Afghan army post in the Dobandi area of Chardra district with a police vehicle captured last year during fighting. Nine civilians, including women and children, and four soldiers were wounded, a provincial official told CNN.
In Kandahar province, a long volatile southern region, an improvised explosive device attack 100 meters from police headquarters injured six people.
CNN's Matiullah Mati contributed to this report.
FOLLOW THIS TOPIC