Pakistani officials: Latest suspected drone attack kills 10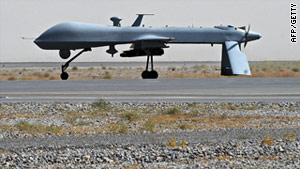 A file photograph of a U.S. Predator drone -- six militants were killed by a suspected U.S. drone strike in Pakistan.
STORY HIGHLIGHTS
NEW: Based on a CNN count, Tuesday's attacks bring the number to 110 this year
It occurred in North Waziristan, which has seen a spike in attacks in recent weeks
On Monday, 18 people were killed in two attacks in the area, officials say
Peshawar, Pakistan (CNN) -- Two suspected U.S. drone strikes in Pakistan's tribal region Tuesday killed 10 alleged militants, intelligence officials said.
Based on a CNN count, Tuesday's strikes raises the number of such attacks to 110 this year, compared with 52 in all of 2009.
The first strike occurred in North Waziristan, one of seven districts in Pakistan's volatile tribal region bordering Afghanistan, where unmanned aircraft missiles targeting militants have spiked in recent weeks.
The drones fired two missiles on a militant hideout in the area of Ghulam Khan, two Pakistani intelligence officials told CNN. Later, a suspected drone circled around the blast site and fired two more missiles. Six suspected militants were killed.
The second attack was on an alleged militant vehicle in the same area, killing four more alleged militants.
The Pakistani intelligence officials asked not to be named because they were not authorized to speak to the media.
The first strike Tuesday occurred less than 40 kilometers (24 miles) from two suspected drone strikes on Monday, which killed at least 18 people.
On December 17, three separate drone strikes killed at least 57 people, a record for one day. All the deaths were in the Tirah Valley area of the Khyber Agency, north of North Waziristan.
Intense drone activity in Pakistan's tribal region has moved northward, mirroring the movement of suspected militants as they try to flee the targeted strikes, a senior Pakistani military official told CNN last week.
The United States does not officially confirm that it has unmanned aircraft firing missiles at terror targets in Pakistan, but it is the only country in the region known to have the capability to do so.
CNN's Chris Lawrence contributed to this report
FOLLOW THIS TOPIC