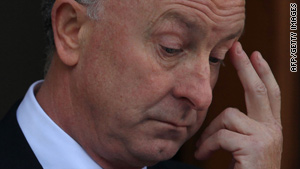 Irish Justice Minister Dermot Ahern has ordered a probe into the surprise finding of explosives.
STORY HIGHLIGHTS
NEW: Snafu undetected until police officer tells superiors, Slovakian president's office says
Police and army bomb experts close section of central Dublin where man lived
Explosive did not pose any imminent threat, officials say
Slovak authorities say they were conducting test of their country's airport security measures
(CNN) -- The head of Slovakia's border police apologized for a security test snafu in which a police officer put a plastic explosive into the bag of an unsuspecting passenger who unwittingly carried it from Poprad, Slovakia, to Dublin, Ireland.
"The police officer made a silly and unprofessional mistake, which turned the good purpose of protecting people into a problem," said Slovakian Police Chief Tibor Mako in a written statement Wednesday.
"The head of the Border Police is going to undertake disciplinary measures against this police officer, and he will investigate possible responsibility of other people as well.
"We have apologized to the person involved and to his wife." The passenger was identified as a 49-year-old electrician traveling on a flight from Poprad, Slovakia, to his home in Dublin, Ireland.
The test had been intended to keep sniffer dogs "in shape and on alert in a real environment," he said.
In Saturday's incident, a Border Police officer placed two samples of research development explosive, or RDX, into a bag at Poprad-Tatry Airport, Mako said. "The sniffer dog found one sample, after which the police officer and the dog were called off to a different matter and the officer had forgotten to take out the second sample."
The material -- 90 grams (3 ounces) of the explosive -- went undetected in the Slovakian man's bag until the police officer responsible for the screw-up told his superiors on Monday, a spokesman for the Slovakian president said in a written statement. Slovakian authorities then alerted their Irish counterparts.

Video: Tougher checks for travelers

Video: U.K. beefs up airport security
The man was contacted by police and, following their instructions, found the sample in his luggage on Monday evening and waited for Irish police to arrive to take it away.
Meanwhile, police and army bomb disposal experts closed the section of central Dublin where the man lived.
And, for "an incomprehensible reason," the Irish police took the man into custody, releasing him a few hours later after they were contacted by Slovakian authorities, Mako said.
The explosive did not pose any imminent threat, officials said.
"On their own, this type of explosive does need to be combined with other elements to make it into a bomb, but obviously this type of high-grade explosive is potentially extremely dangerous," Commandant Gavin Young, an Irish Defense Forces spokesman, said in an RTE interview.
Ireland's Justice Minister Dermot Ahern ordered an investigation on Tuesday.
Slovakian Minister for the Interior Robert Kalinak has conveyed his government's profound regret for this incident and will cooperate with the Irish investigation, according to the Irish justice department.
The incident came on the heels of the botched December 25 bombing of a Northwest Airlines flight from Amsterdam, Netherlands to Detroit, Michigan, by a passenger who had hidden explosives in his underwear.
The explosives failed to ignite fully, but the incident led to heightened security at airports around the world.
Mako said that Slovakia's minister of interior has decided to search for new ways to train sniffer dogs "so this situation will not be repeated."
Steve Lott of the International Air Transport Association told CNN airports must carry out regular security exercises to test their systems but rarely use real explosives placed in a passenger's luggage.
In the United States, Lott said, security drills are typically conducted using simulated explosives so as not to pose any risk to airport staff or passengers.
Materials are typically placed in baggage belonging to officials or agents taking part in the exercise, he said.
CNN's Bridget Fallon contributed to this report.