STORY HIGHLIGHTS
France scores high marks across the board, especially in health care
U.S. drops to seventh place from third because of economy
French enjoy everything from Riviera beaches to Alpine skiing
Vacations are long, leaves are generous, lifestyle good
London, England (CNN) -- Bindi Dupouy, an Australian living in Paris, and her French husband, just had their first child, a son born in the country.
Dupouy, a 28-year-old lawyer, got almost five months paid maternity leave from her company for the birth. She can take another seven months off beyond that -- a year total -- unpaid, if she wants, with her job guaranteed under French law.
When her son Louis was born, healthy and by way of a normal delivery, she got to stay in her local French hospital, around the corner from where she lives, for five full days, to rest.
Welcome to France, voted the best place in the world to live for the fifth year in a row by International Living magazine, which has been analyzing data and publishing its annual Quality of Life Index for 30 years.
One of the reasons France keeps winning the ranking is its world-class health care system, which Dupouy just experienced first-hand.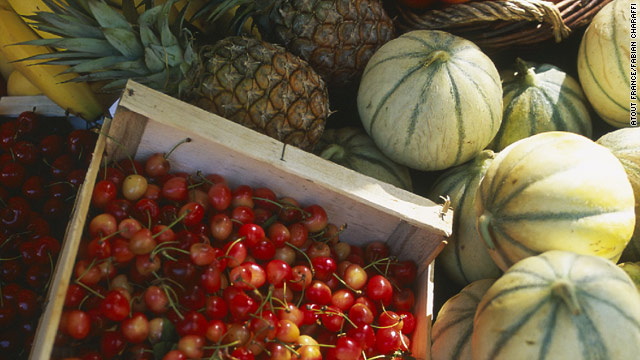 Gallery: French delight
"They treat expecting mums like treasures here," Dupouy told CNN from her Paris apartment. "They take really good care of you. The health care system is just amazing." She said she wouldn't have gotten the same maternity leave -- or care -- back home in Australia.
At her job, Dupouy also gets seven weeks paid vacation a year, although it's her first job as an attorney since graduating with a law degree in Australia. She doesn't think twice about taking the Metro across town -- for just $1.37 a ride -- to visit a friend. Or she picks up a rental bike at one of the many computerized bike hire racks in town to get around.
France scores high marks across the board in the survey, which is done every January, from health care (100 points) to infrastructure (92 points) to safety and risk (100 points).
"No surprise," said the magazine in its report. "Its (France's) tiresome bureaucracy and high taxes are outweighed by an unsurpassable quality of life, including the world's best health care."
"The bread, the cheese, the wine," Dan Prescher, special projects editor at the magazine, told CNN, when asked why France just keeps on winning year after year. "That weighs pretty heavily in quality of life."
They treat expectant mums like treasures here. The health-care system is just amazing.
--Bindi Dupouy, an Australian in Paris
Prescher admitted the magazine had an "American bias" since the vast majority of its subscribers are Americans spending in U.S. dollars. "France is one of those golden places in the American consciousness," he said.
The annual index ranks 194 countries and comprises nine categories: Cost of Living, Culture and Leisure, Economy, Environment, Freedom, Health, Infrastructure, Safety and Risk and Climate. The Index analyzes data from several official sources, including government web sites, the World Health Organization, and several media sources.
Following France in the top ten are Australia, Switzerland, Germany, New Zealand, Luxembourg, the U.S., Belgium, Canada and Italy, in that order.
"France always nets high scores in most categories," the magazine said. "But you don't need number-crunchers to tell you its 'bon vivant' lifestyle is special. It's impossible to enumerate the joy of lingering for hours over dinner and a bottle of red wine in a Parisian brasserie. Or strolling beside the Seine on a spring morning, poking through the book vendors' wares."
Other European countries slipped a little in the magazine's rankings this year, with the exception of France and Germany. Britain dropped to 25th place from last year's ranking of 20.
Variety is also seen as a major factor in France's appeal, with the survey noting that "romantic Paris offers the best of everything, but services don't fall away in Alsace's wine villages, in wild and lovely Corsica, in lavender-scented Provence."
The United States dropped from third to seventh place in this year's rankings, largely because of the grinding economic crisis last year. "Sustaining the American dream has escalated out of the reach of many," the magazine said.
"The depression hit the United States and Great Britain hard," Prescher told CNN. "That weighs down the ratings."
Of course, France too has its problems. The country suffers from high youth unemployment, particularly among the disaffected young people who live in its equivalent of the projects, known as les banlieues.
Late last year, the French government opened a national discussion about national identity, which has evolved into debates over whether immigrants, and particularly Muslim immigrants, are French enough. The country has the highest Muslim population of any European country, with an estimated six million living in the country.
But for the most part, French people enjoy a good lifestyle. International Living says that during their large chunk of leisure time, the French enjoy visiting the country's many beaches and Alpine ski resorts.
Dupouy -- like more famous expats Ernest Hemingway and Julia Child before her -- agrees.
She and her husband vacation every year at the seaside near Bordeaux, in the southwest corner of France, where her husband's family has a home. They also go skiing in the Alps during the winter.
She says that even if she and her husband decide to leave France for awhile during their lives, they'll always come back -- every year, probably.
"The culture, the food, the family, it's all just really nice here," said Dupouy.