Greek PM slams European Union amid crisis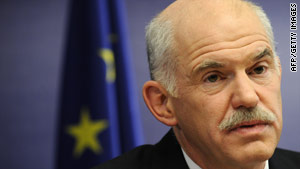 George Papandreou says financially-stricken Greece cannot go it alone.
STORY HIGHLIGHTS
Greek leader says his country lacks economic clout to escape crisis alone
European Union has pledged to stand by Greece, but offered no rescue plan
Crisis over Greek debt has threatened to spill into other parts of Europe
(CNN) -- Greek Prime Minister George Papandreou said the European Union could do more to stand by his country amid a budget crisis that threatens EU political unity and budget rules.
"In the battle against the perceptions and the psychology of the markets, the EU was timid, at the least," Papandreou said Saturday.
"Greece is neither a political nor an economic superpower to go it alone in this battle," he said, two days after EU leaders declined specific promises of action for the country.
The European Union called on Greece Thursday to do whatever is necessary to reduce its skyrocketing budget deficit and agreed on an approach to help the country.
New EU President Herman Van Rompuy did not announce a deal to rescue Greece but said European countries would be prepared to step in if needed.
"Euro-area member states will take determined and coordinated action if needed to safeguard financial stability in the euro area as a whole," he said. "The Greek government has not requested any financial support."
Stocks surged Thursday after the announcement, but there are "continued concerns about what the EU is going to do about Greece," said Tom Schrader, managing director at Stifel Nicolaus, a financial services company.
European officials have forecast a budget deficit of 12.2 percent of GDP for Greece in 2010. Under EU rules, member countries' budget deficits should only be 3 percent of GDP.
Q&A: Greece financial crisis explained
In recent weeks, Greece has tried to announce measures to fix the problem, but global markets have not reacted well and the Greek public has launched street protests against the proposals.
Van Rompuy said all members of the eurozone -- those countries using the euro currency -- have a shared responsibility for the economic and financial stability of their group.
"We fully support the efforts of the Greek government and their commitment to do whatever is necessary, including adopting additional measures to ensure that the ambitious targets set in the stability program for 2010 and the following years are met," he said.
"We call on the Greek government to implement all these measures in a rigorous and determined manner to effectively reduce the budgetary deficit by 4 percent in 2010."
He said the European Commission, the executive body of the European Union, will monitor Greece's progress together with the European Central Bank, and will propose additional measures as needed.
The first European assessment of Greece's progress will be conducted next month, Van Rompuy said.
--CNN's Christine Theodorou and CNNMoney's Alexandra Twin contributed to this report