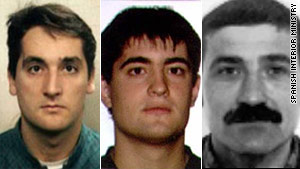 Gogeascoechea (left) with the two other ETA suspects captured by Spanish police.
STORY HIGHLIGHTS
NEW: French Interior Minister tells CNN affiliate: France doesn't welcome terrorists
Suspect was identified as 54-year-old Ibon Gogeascoechea Arronategui
Spain: Gogeascocechea considered "the maximum leader of ETA"
ETA blamed for more than 800 deaths in its long fight for Basque independence
Madrid, Spain (CNN) -- Police arrested the suspected top leader of the Basque separatist group ETA early Sunday along with two other senior suspects from the outlawed armed group, Spain's Interior Ministry said.
The arrests took place in France, the ministry said.
The top suspect was identified as Ibon Gogeascoechea Arronategui, 54. He is wanted for the murder of a police officer and has been a fugitive for 12 years, the statement said.
"Gogeascocechea is currently considered the maximum leader of ETA, and has been in its ranks for 13 years," the statement said.
French Interior Minister Brice Hortefeux told CNN affiliate BFM-TV, "France has long been considered as a logistical base for ETA. We have established a close cooperation with Spanish authorities, like with my counterpart (Spanish Interior Minister) Alfredo Rubalcaba, and we decided to strike and strike hard because France doesn't have to welcome terrorists."
It is the fifth time since May 2008 that the suspected top ETA "military" leader, who directs commandos that carry out deadly attacks, has been detained, Spanish Interior Minister Alfredo Perez Rubalcaba said at a nationally-televised news conference in Madrid.
After each such arrest, ETA replaced the top leader, Rubalcaba said, and he warned that the latest arrests do not signify the end of ETA, which is blamed for more than 800 deaths in its long fight for Basque independence.
"This does not eliminate the risk of an attack. ETA has the worst intentions, so we can't lower our guard," Rubalcaba said.
ETA is listed as a terrorist group by Spain, the European Union and the United States. Founded in 1959, ETA is an acronym for Euskadi ta Askatasuna, which means "Basque Homeland and Liberty" in the Basque language.
French police, working in with Spanish Civil Guards, closed in early Sunday on a rural home in Cahan in the Normandy area of France.
The home had been rented by people using forged documentation, police determined, and the home's occupants were using a car with fake license plates, the ministry statement said.
The other two suspects arrested were identified as Beinat Aguinagalde Ugartemendia, 26; and Gregorio Jimenez Morales, 55.
Ugartemendia had been a fugitive since March 2009 and was wanted for two ETA killings in 2008 and for a car bombing in 2008 at a university in Pamplona that wounded 20 people.
Morales had been a fugitive since 2005 and was wanted for a failed ETA missile attack against then-Spanish Prime Minister Jose Maria Aznar.
Police seized two pistols, a revolver, a small amount of explosives, computers and chains from the three suspects, Rubalcaba said.
Police have been on heightened alert for a potential ETA attack or kidnapping since December, when Rubalcaba issued an unusual public warning.
Spain, France and Portugal have arrested 32 ETA suspects this year alone, Rubalcaba said.
"These have been the worst two months for ETA in its history," Rubalcaba said, adding that in addition to the 32 arrests, police seized 4,400 pounds of explosives in various raids this year.
The arrests in Spain have been carried out by four different police forces in a new, higher level of cooperation: national police, civil guards and regional Basque and Catalan police.
But other key arrests, such as those on Sunday, were carried out in ETA's traditional rearguard logistics base, France.
In recent months, authorities determined that ETA was also using Portugal as a logistics base, because of the police pressure in France. Authorities in Madrid and Lisbon moved quickly to improve police cooperation.
On February 4, police in Portugal seized more than 3,000 pounds of explosives from a house used by ETA, and Rubalcaba later said 660 pounds of it was mixed and ready to be used in bombs.