Italy: Arrests over Iranian arms trafficking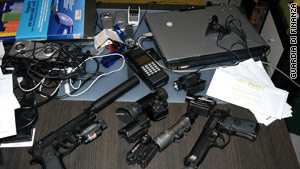 Italian police photos show some of the weapons and equipment seized in the operation.
STORY HIGHLIGHTS
Five Italians and two Iranians arrested for arms trafficking
Arms exports to Iran are banned under a United Nations embargo
Among seized items were rifle scopes and military scuba-diving jackets
Rome, Italy (CNN) -- Authorities arrested seven people and issued warrants for two more suspected of arms trafficking to Iran, Italian police said Wednesday.
The suspects include both Italians and Iranians. The Italians work in the arms import-export business and at least some of the Iranians are thought to be members of the Iranian secret service, police said.
Arms exports to Iran are banned under a United Nations embargo.
Those arrested are five Italians and two Iranians. The warrants are for two Iranians thought to be in Iran, police said.
One of the arrested Iranians was accredited as a journalist working in Rome, police said.
The investigation began last year when arms were discovered in airports in Bucharest, Romania, and London, England, said Italy's anti-terrorism prosecutor, Armando Spataro. Romanian authorities contacted their counterparts in Italy because some of the seized materials had come from Italy.
Italian authorities then tapped the phones of several suspects, and the conversations they monitored led them to believe one or two of the Iranians are members of that country's secret service, police said.
Among the seized items were 1,000 German-made rifle scopes and 120 military scuba-diving jackets.
Police also seized flak jackets, mobile phones and life vests. Spataro said the suspects were also trying to obtain military helicopters, though he gave no details on how they attempted to do so.
"Police blocked the export to Iran of a huge quantity of traceable projectiles, Eastern European explosives, and a mix of explosives that are highly flammable," police said in a statement.
-- CNN's Hada Messia and Morgan Neill contributed to this report.