UK councils ordered to quit the jargon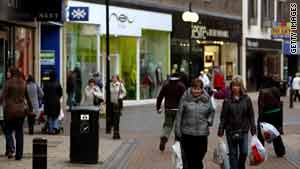 The general public struggle with the use of technical terms and jargon and could be missing out.
STORY HIGHLIGHTS
Local Government Association says people are losing out on valuable information
Words such as "wellderly" and "webinar" confusing to public, LGA says
Says jargon must be removed from documents, publications aimed at the public
London, England (CNN) -- Hundreds of words and phrases have been added to a jargon "blacklist" in an effort to make Britain's public sector services less confusing.
In a new survey, the Local Government Association (LGA), which represents local authorities across England and Wales, says people are losing out on valuable information because of impenetrable technical language.
The list of 250 terms to be outlawed includes "wellderly," which refers to elderly people in good health; "webinar," or a live meeting via the Internet; and "under-capacitated," which means under-qualified or unfit.
The LGA believes that while there is a place for technical language to be used between experts, jargon must be removed from documents and publications that are aimed at the public.
"The public sector must not hide behind impenetrable jargon and phrases," said LGA Chairman Margaret Eaton. "Why do we have to have a 'webinar trialogue for the wellderly' when the public sector could just 'talk about caring for the elderly' instead?
Trialogue
Wellderly
Goldfish bowl facilitated conversation
Tonality
Webinar
Under-capacitated
Clienting
Disbenefits
"Any organization that spends taxpayers' money has a duty, not only to provide value for money to local people, but also to tell them what they get for the money they pay. People would be furious if they had no idea of what services their cash was paying for and how they should get to use them."
Harrow Council, which covers part of London, announced it would use the clearest English possible in dealing with phone calls, e-mails and visits from the public, the LGA added.
It identified "seven sins of jargon" which it told staff to stop using in conversation with the public, and provided plain English substitutes.
It also said Liverpool City Council is considering changing job titles to help the public understand what staff do, and will ensure documents are written in plain English.