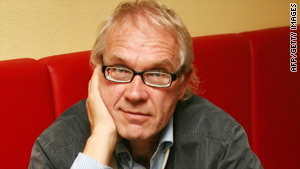 Media reports said the arrests were linked to a plot to kill cartoonist Lars Vilks.
STORY HIGHLIGHTS
Irish authorities charge two men over reported plot to kill Swedish cartoonist
Two men were among seven people arrested in relation to plot, U.S. officials say
U.S. official said target was Lars Vilks, who drew prophet Mohammed
(CNN) -- Irish authorities said Tuesday they have charged two men who were reportedly part of an international plot to kill a controversial Swedish cartoonist.
The two men appeared in Waterford District Court on Monday night, the Courts Service of Ireland said. While the service refused to confirm whether their case is related to the alleged plot, Irish and British media outlets including The Irish Times reported the connection.
The first man, Ali Charaf Damache, was charged with making a menacing call to an individual.
The other man, Abdul Salem Monsour Khalil al Jahani, was charged with failure to produce a valid passport or other valid document to establish his identity, contrary to the Immigration Act 2004.
The Irish Times reported that al Jahani admitted telling investigators he gave a false name when he came to the Republic of Ireland to claim asylum in July 2001.
Both men were remanded into custody until their next court appearance Friday.
The Courts Service did not disclose the men's nationalities, but said both lived in Waterford, the southeastern Irish city known worldwide for its crystal. Waterford is about 260 kilometers (160 miles) south of Dublin.
The two men were among seven people arrested a week ago in direct relation to the plot, a U.S. government official familiar with the case told CNN.
Irish police did not identify the seven people or say why they were arrested. The two men charged Monday night were the only ones of the seven who were charged.
An American woman who called herself "Jihad Jane," Colleen LaRose, was indicted in the United States earlier this month for allegedly conspiring to support terrorists and kill a person in a foreign country, namely a resident of Sweden. The U.S. official identified the target to CNN as Lars Vilks, a cartoonist who outraged some with a drawing of the prophet Mohammed.
The indictment against LaRose says she worked with at least five co-conspirators. The U.S. official said the people arrested in Ireland were directly related to the same plot to which LaRose was allegedly connected.
Calculated move
Vilks told CNN he had drawn the cartoon of Mohammed with a dog's body in order to take a stand.
"It should be possible to insult all religions in a democratic way, " Vilks told CNN at his home in rural Sweden in 2007, after the controversy erupted. "If you insult one, then you should insult the other ones."
Dogs are considered unclean by conservative Muslims, and any depiction of the prophet is strictly forbidden.
Vilks said his drawing was a calculated move, and he wanted it to elicit a reaction.
"That's a way of expressing things. If you don't like it, don't look at it. And if you look at it, don't take it too seriously. No harm done, really," he said.
When it's suggested that might prove an arrogant -- if not insulting -- way to engage Muslims, he is unrelenting, even defiant.
"No one actually loves the truth, but someone has to say it," he says.
Vilks, a self-described atheist, points out he's an equal opportunity offender who in the past sketched a depiction of Jesus as a pedophile.
His cartoon came on the heels of Muslim outrage about cartoons originally published in Denmark in 2005. The republication of the cartoons several months later sparked violent protests in the Muslim world and prompted death threats against at least one cartoonist's life.
Vilks' cartoon, which was published in August 2007 by the Swedish newspaper Nerikes Allehanda, did not provoke that level of global protests, although it has stoked plenty of outrage.
Muslims in Sweden demanded an apology from the newspaper, which stood by Vilks. Pakistan and Iran also lodged formal protests with Sweden.