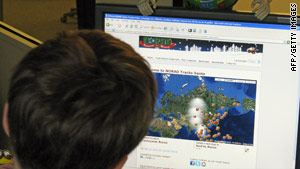 The British survey found that 26 percent of children surveyed had tried hacking, and many of those said they did it for fun.
STORY HIGHLIGHTS
Study finds 26 percent of children surveyed have tried computer hacking
Many targeted Facebook accounts and their friends' e-mail accounts
Finding came despite majority saying they thought hacking was wrong
Survey was conducted by police and an international IT security firm
London, England (CNN) -- Though the majority of children agree that computer hacking is wrong, more than a quarter of those in England have tried it, a survey released Thursday found.
Twenty-six percent of children surveyed said they had tried hacking -- breaking into someone else's account -- at some point. Of those who had hacked, more than a quarter (27 percent) had targeted accounts on the popular social networking site Facebook, and 18 percent went after their friends' e-mail accounts, the survey found.
The study of 1,000 children in London and 150 from the northern English county of Cumbria was conducted two weeks ago by the Cumbria Constabulary and Tufin Technologies, an international IT security firm.
The findings came despite 78 percent of respondents agreeing that it is wrong to hack, and 53 percent of them saying they feel it is illegal.
"What this survey starkly highlights is that hacking into personal online accounts, whether e-mail or Facebook, can be child's play if users do not protect their own passwords," said Stuart Hyde, deputy chief constable of the Cumbria Police and the president of the Society for the Policing of Cyberspace. "It illustrates the importance of keeping your passwords strong, secure, and changing them regularly."
The children who said they had hacked were split almost evenly between girls and boys. Of those who admitted guilt, 47 percent were girls.
Most of the hacking -- 27 percent -- was done from the children's bedrooms, but 22 percent was done in Internet cafes, 21 percent was done in the school computer lab, and 19 percent was done on a friend's machine, the survey found.
The most common reason for hacking was for fun, with 46 percent of respondents giving that answer. But 21 percent said they intended to cause disruption and 20 percent thought they could generate an income from hacking, the survey found.
Seven percent of those who admitted hacking said they went for online shopping sites and six percent targeted their parents' e-mail accounts. Five percent breached their school's Web site and three percent said they had hacked into corporate Web sites, the survey found.
"One of the most worrying statistics from this survey is the staggering numbers of kids that are successful and the ages involved," said Reuven Harrison, co-founder of Tufin Technologies. "Hacking has changed a lot in the past few years from the curiosity or fun factor to now making serious money or causing havoc in the corporate environment."
In Cumbria, 78 percent of those who had hacked had done it before their 13th birthday, the survey found. In London the ages were higher, with only 16 percent having hacked before entering their teens.
The survey did not explain the difference.
To conduct the survey in London, five researchers interviewed children at shopping malls, Internet cafes, and on the street. In Cumbria, police officers reached children through their schools in order to conduct anonymous online surveys.
Tufin recommended measures to protect online activity, such as installing anti-virus and anti-spyware software and installing a firewall.
It said users should vary their usernames and passwords between sites and periodically change them if they suspect someone may know them.
Users should also be careful about what they discuss in chat rooms, Tufin said, because "someone with an ulterior motive could be gathering information spanning many months that individually tells you nothing but pieced together provides a complete picture."