Pope finalizes letter on abuse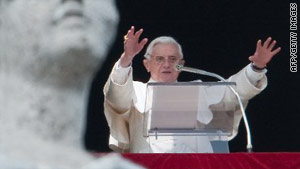 Pope Benedict XVI says he hopes his letter will help process of healing.
STORY HIGHLIGHTS
Contents of pope's pastoral letter to be released on Saturday
Pope says he hopes letter will help healing in wake of child abuse scandals
Hundreds of abuse cases come to light in Ireland, Germany, Austria and Netherlands
(CNN) -- Pope Benedict XVI has signed a letter aimed at defusing anger in Ireland over a sex abuse scandal in the Roman Catholic Church.
The pope has produced the pastoral letter -- a communication use by senior Catholic clergy to offer direction to followers or admonitions to lower orders -- amid growing criticism over the church's handling of abuse cases across Europe.
Victim recalls abuse
The contents of the letter, which Benedict XVI says he hopes "will help in the process of repentance, healing and renewal" are to be made public on Saturday, according to the Vatican.
Scandal shatters faith in Catholic Church
Hundreds of allegations of sexual or physical abuse of children by Catholic clergy have come to light in Germany, Austria and the Netherlands this year, following high profile inquiries into the issue in Ireland.

Video: Bishops speak on sex scandal

Video: Irish priest faces extradition

Video: Catholic abuse scandal
The pope himself has been under fire since it was revealed a priest suspected of abusing children was allowed to move into his diocese when he was an archbishop in Germany in 1980.
Catholic church authorities in the Republic of Ireland have been pushed to the brink of crisis over claims of abuse and subsequent cover-ups, with four bishops resigning and the church's head issuing an unprecedented apology.
Cardinal Sean Brady said earlier this week that the church's response to abuse had been "hopelessly inadequate" and admitted he was "ashamed" at his own involvement in a widely criticized pedophile priest investigation in 1975.
"I want to say to anyone who has been hurt by any failure on my part that I apologize to you with all my heart," he said.
A government-backed report earlier found that the Archdiocese of Dublin and other Catholic Church authorities in Ireland covered up child abuse by priest from 1975 to 2004. Child sexual abuse was widespread then, the report found.
Brady's apology and the church's handling of the issue has so far failed to appease groups representing victims of abuse.
John Kelly, founder of Irish Survivors of Child Abuse, told CNN earlier this week he believed the Roman Catholic Church should let secular authorities deal with accusations of abuse, rather than trying to handle them itself.