STORY HIGHLIGHTS
Two bombs explode in Russia's southern republic of Dagestan, killing 12 and wounding 23
Attacks happened in the town of Kizlyar, near the breakaway republic of Chechnya
Car bomb detonates; Twenty minutes later, suicide bomber blows himself up at same site
Blasts happened two days after suicide bombers killed at least 39 people on Moscow metro
(CNN) -- Twelve people -- nine of them police officers -- were killed Wednesday when two bombs exploded in Russia's southern republic of Dagestan, officials told CNN.
Another 23 people, including 11 police officers, were hospitalized with wounds from the bombings, at least one of which was carried out by a suicide bomber, according to a spokesman for the Dagestan police and Vladimir Markin, a spokesman for the Investigative Committee in the Russian prosecutor general's office.
It happened two days after female suicide bombers killed at least 39 people on the Moscow metro.
Speaking at a government meeting from his country residence outside Moscow, Russian Prime Minister Vladimir Putin said he doesn't rule out that Wednesday's bombings in Dagestan were carried out by the same terrorist groups behind the Moscow attacks.
"I do not rule out that the same bandits were behind this," Putin said.
"Everything has been said in the connection with the tragic events at the Moscow subway," Putin said. "I would just like to add that it doesn't make any difference to us which part of the country such crimes take place in, and people of which ethnic background or religious creed become the victims of such crimes. We regard them as crimes against Russia."
Russian investigators have said they believe Chechen rebels may have been behind Monday's fatal bombings in Moscow, although nobody has claimed responsibility.
Officials said Wednesday's attacks happened in the town of Kizlyar, near the restive republic of Chechnya.

Video: Dagestan explosion aftermath

Video: Russians mourn metro blast victims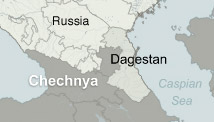 Dagestan blasts
There was confusion about whether the first blast was carried out by a suicide bomber. Markin said the initial blast happened at 8:40 a.m. (12:40 a.m. ET) when a car rigged with explosives blew up as another car carrying policemen was driving by. However, the Dagestan police spokesman said a suicide bomber was in the first car, and that he blew himself up when police pulled him over.
Twenty minutes later, a suicide bomber dressed in a police uniform approached rescue workers who had arrived at the scene of the first explosion and blew himself up, Markin said.
The explosions happened about 300 meters (328 yards) from the Interior Ministry and Federal Security Service buildings and a school, state-run Russian news agency RIA Novosti said.
Windows were broken in all nearby buildings, including the local court, a police station, and the school, the Interfax news agency reported.
Dagestan is a predominantly Muslim republic in southern Russia where Russian forces have sought to quell Islamist rebels. Separatist violence, including suicide bombings, have plagued the region.
A suicide bomber in January targeted a police station in the capital of Makhachkala, killing five police officers and wounding at least 14 others.
Alexander Bastrykin, the head of the Investigative Committee in the Russian prosecutor general's office, said in January that 513 terrorist acts were carried out in the first 10 months of 2009 in the troubled Northern Caucasus.
-- CNN's Maxim Tkachenko contributed to this report.