Carlsberg workers strike over drinking policy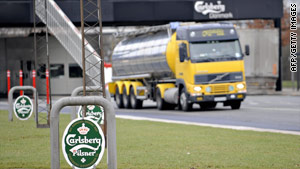 The Danish brewer was founded in 1847
STORY HIGHLIGHTS
Workers had been allowed to drink as many beers as they wanted during the day
Danish company's spokesman said that was as long as workers didn't get drunk
Carlsberg have changed policy so workers can only drink beer during their lunch break
(CNN) -- Hundreds of Carlsberg workers are on strike because the brewer failed to consult them when it changed rules on drinking alcohol on the job, a union spokesman said Friday.
Since the Danish brewer was founded in 1847, workers have been allowed to drink as many beers as they wanted during the day, said Michael Christensen, a representative of the the United Federation of Danish Workers (3F).
A company spokesman said that was as long as workers didn't get drunk.
On the first of April, however, Carlsberg changed the policy so workers could only drink beer during their 30-minute lunch break at the canteen, company spokesman Jens Bekke told CNN.
He said Carlsberg changed the rule to conform with what other companies are doing throughout Denmark.
The policy change would have been no problem, Christensen said, except that Carlsberg didn't honor a long-standing agreement to consult with workers about it first.