Earthquake hits southern Spain; damage said unlikely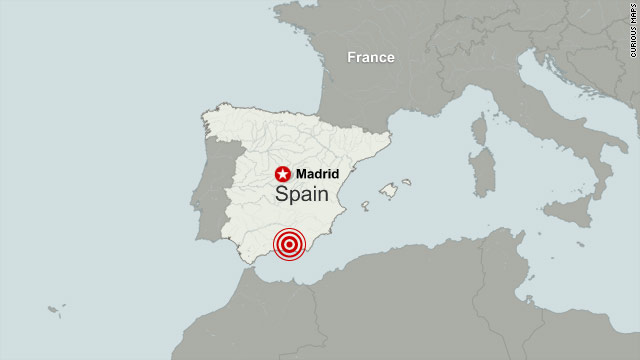 STORY HIGHLIGHTS
Magnitude 6.2 earthquake centered near Granada, Spain, at 12:08 a.m. Monday
Geophysicist: Quake's depth of 616 kilometers means little damage is likely at Granada
(CNN) -- A strong earthquake struck near the Spanish city of Granada early Monday, but at a depth that made damage to the medieval Moorish capital unlikely, the U.S. Geological Survey reported.
The magnitude 6.2 earthquake struck at 12:08 a.m. local time Monday (6:08 p.m. Sunday ET), the USGS reported.
It was centered about 24 kilometers (15 miles) southeast of Granada and about 370 kilometers (230 miles) south of Madrid, Spain's capital.
There was no immediate report of damage or injuries from the temblor. The quake's recorded depth of 616 kilometers -- nearly 400 miles -- means little damage is likely, geophysicist Susan Potter told CNN.
"When an earthquake is deeper, the seismic energy is absorbed by the Earth," Potter said. "So there will be less damage expected in the epicenter area."