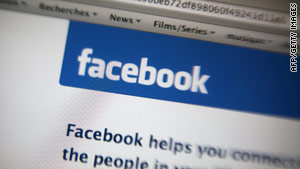 The lack of a panic button was highlighted after the murder of a 17-year-old British student last year.
STORY HIGHLIGHTS
Child Exploitation and Online Protection Center welcomes Facebook measures
But they call for direct visible access to CEOP button on each and every page
Child safety group says current "panic button" link is too buried in the site
Panic button issue highlighted by murder of a 17-year-old UK student last year
London, England (CNN) -- A leading child safety group has repeated its call for Facebook to introduce a clearly visible "panic button" on all of its pages, as the social-networking giant unveiled its biggest ever online safety campaign in Britain Tuesday.
Facebook was criticized by child experts and police in Britain for not doing enough to make it easier for children to report bullying or sexual abuse.
But in a statement, released Tuesday, the U.S.-based company said its 23 million UK users would now be able to report unwanted or suspicious contact directly to the Child Exploitation and Online Protection Center (CEOP) and other leading safety and child protection organizations via its own reporting system.
Jim Gamble, Chief Executive of the Child Exploitation and Online Protection (CEOP) Center, said the announcement was "nothing more than we would expect from any responsible social network provider."
After a "constructive" meeting with Facebook executives in Washington on Monday, Gamble welcomed a commitment by Facebook to improve the way they work with CEOP but said critical issues remain unresolved.
Don't disclose too many details about your identity in your online profile

If people ask to be your friend or buddy, remember that no matter how much they tell you, they are still strangers and they might not be telling you the truth

Don't upload anything that might embarass you at a later date

Don't get into arguments online, this is called flaming and it can turn nasty

Don't upload pictures or video of anyone without their permission
"We believe that -- without the deterrence provided by direct visible access to the CEOP button on each and every page -- children will not be appropriately empowered, parents cannot be reassured and the offender will not be deterred," he said in a statement.
A CEOP spokesperson told CNN their link is buried deep inside Facebook's safety center, taking users several clicks to reach.
"We've always said the button needs to be on every profile page so with one click somebody who needs to can report directly to a child protection specialist, who can make a proper assessment," she said.
"On average we receive around four reports a day indicating that a child is at risk. Not all of those come out of social networking sites, but many do. The thought of reports disappearing down a black hole is something we're extremely worried about as an organization.
"We know from offenders that a button would be a visible deterrent. Everyone benefits from this. It is a free independent means of safe-guarding their customers."
The lack of a Facebook panic button was highlighted after the murder of a 17-year-old student last October by Peter Chapman, who she met on the social Web site.
Chapman had posed on the Web site as a young man and spent time grooming Ashleigh before the pair exchanged mobile phone numbers and agreed to meet.
After killing her he dumped her body in a field near Sedgefield in County Durham, northeast England.
Until now Facebook has said adopting a button would have no effect on reducing abuse and that it had a number of measures in place to report bullying or abuse.
The other components of Facebook's new safety campaign include:
- A £5 million ($7.6 million) investment in education and awareness: Facebook will provide leading safety organizations with one billion advertising impressions to help them to raise awareness and educate the millions of Britons who rely on Facebook every day on how to stay safe online. Facebook has also introduced a new Safety Center with improved resources for parents, teachers, teens and police.
- Improved cooperation with police: Facebook will create a new 24-hour police hotline, dedicated solely to helping UK police with emergencies, investigations and prosecutions.
- Public-private partnership: The company called on government to consider new ways in which information about registered sex offenders can be securely shared with social networks -- a model widely deployed by the U.S. States Attorney Generals which has effectively removed dangerous individuals from access to such services.
"The investments and partnerships we've announced today -- in direct reporting, in education and awareness, and in greater support for law enforcement -- will transform social networking safety and security," said Elliot Schrage, Vice-President of Global Communications and Public Policy at Facebook.
"They represent the most comprehensive public/private safety initiative since social networking began in the UK almost a decade ago."
CNN's Thair Shaikh contributed to this report.