STORY HIGHLIGHTS
American family sent adopted boy back to Russia, claiming violent behavior
Man says he was hired to pick up 7-year-old, who had flown from Washington alone
No one at Russian ministry was expecting return
Boy gave him airline wings, hand-drawn picture before being taken away
(CNN) -- The driver hired to deliver an adopted Russian boy from the Moscow airport to the Russian education ministry last week said he was "shocked like a crazy man" when he realized what was happening.
Seven-year-old Justin Artyem was sent back to Russia alone by the Tennessee family that adopted him because of what they said was violent and psychotic behavior.
Arthur Lookyanov said the child was in "a good mood" during the two-hour ride Thursday morning, drawing pictures and playing with his Spiderman toy most of the time. But near the end of the ride, he cried, saying he missed "Grandma Nancy," Lookyanov said.
It was his adopted grandmother, Nancy Hansen, who bought Justin a one-way ticket on a United Airlines flight from Washington to Moscow and arranged for Lookyanov to meet him there.
Lookyanov provided CNN with a copy of his e-mail exchanges with Hansen.
"I am interested in hiring you for a pick-up from DME (Domodedovo Airport) to the office of the Ministry of Education and Science of the Russian Federation on Monday April 12th," Hansen initially wrote to Lookyanov, according to the e-mails.
Lookyanov responded with an extensive e-mail that included references for his work as a professional driver for foreign visitors. His fee would be $120, he said.
When Hansen later sent an e-mail to say she had booked a flight that would arrive on Thursday morning, she gave no hint that the passenger would be a child, Lookyanov said.
"I had not big plans so I can meet you at Domodedovo," Lookyanov wrote back to her. "Where are you going to stay in Moscow?"
It was not until Wednesday that Hansen told him his passenger would be a young boy who would be escorted through the airport by an airline employee carrying an envelope with two envelopes inside it, according to the e-mails.
"One is an envelope for the Ministry of Education, Tverskaya Street, 11, Moscow," Hansen wrote. "The other envelope will be addressed to you. Inside will be your payment in US Dollars."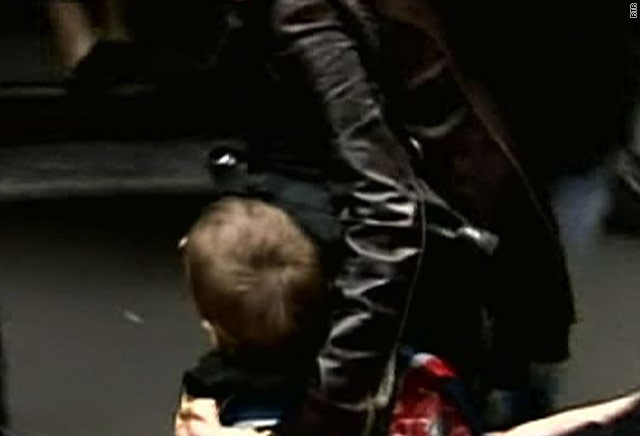 Explainer: From Russia to the U.S.

Video: Russia upset over boy's return

Video: Adopted Russian boy sent packing

Video: Dr. Phil's views on adopted boy scandal
Hansen instructed the driver to take the child inside the ministry and give the envelope to the receptionist.
When Lookyanov and the boy arrived at the ministry, he knew something was "terribly wrong" when he realized that no one was expecting him. When several women came down to investigate why he was there, they opened the envelope intended for the ministry.
"I am sorry to say that for the safety of my family, friends and myself I no longer wish to parent this child," wrote Torry Hansen, the adoptive mother.
An angry phone call to the United States followed, with Lookyanov talking to Nancy Hansen first, complaining that he had been deceived, he said.
Although the driver's duty was completed, he said, he stayed with the boy throughout the day as they waited for juvenile authorities to pick him up.
While they waited, Justin used his pencils to draw "a beautiful house" with only one small door. He also drew another boy who he said was Logan, his 10-year-old friend, according to Lookyanov.
At the end of the day, just before the boy was taken to a special hospital, he gave his driver two gifts. He handed him the United Airline wings he was given on the plane and a picture he had drawn while waiting at the ministry.
Lookyanov said the experience has left him sad and depressed. But the most difficult thing, he said, has been the negative comments made in the Russian media reports, some suggesting that he is partly to blame for the boy's plight. He said he wanted people to know that he had no idea his passenger was an adopted child being returned to Russia.
The incident sparked outrage in Russia and the United States and threatens to bring a halt to adoptions between the two countries.
Top officials from the U.S. State Department plan to travel to Moscow this week to push Russia to allow adoptions by U.S. families to continue.
"We were certainly shocked, as was everybody, about the return of the child," said Michael D. Kirby, principal deputy assistant for U.S. consular affairs. "We are hoping to work with the Russians to continue the adoptions of children."
Nancy Hansen said Friday that the boy "had a hit list of people he wanted to hurt." No. 1 on that list: his American mom, Nancy Hansen said.
The last straw, the adoptive grandmother said, came last week when the family caught the boy trying to start a fire in the home.
A Russian psychologist who visited the boy Friday in a hospital in Moscow, where he was under evaluation to check his health, described him as "very friendly" and communicative. Galina Semya said she saw no aftereffects of psychological trauma, but "he doesn't quite understand why he's here."
When children are adopted abroad, there are normally several stages of adaptation, including one involving cultural shock, in which children can start behaving aggressively, she said. Normally, children get over the stage after several months, she said.
In Bedford County, Tennessee, where Hansen lives, a criminal investigation is under way, though authorities said they don't know whether any laws were broken in the case.
Sheriff Randall Boyce said authorities are still trying to work out a meeting with Hansen and her mother. State Department officials told him they are not aware of any federal laws broken either, Boyce said, adding that officials in Bedford County are trying to unseal the boy's adoption records to research the adoption.
Chuck Crawford, attorney general for the district, said officials have not determined whether the case constitutes child abandonment, but if there was, it took place at the airport in Washington, where the boy boarded the plane.
Torry Hansen did not respond to requests for comment.