Russia suspends U.S. adoptions
STORY HIGHLIGHTS
Russia halts adoptions in wake of return of unwanted boy
Don't worry, U.S. ambassador tells parents in process of adopting
Adoptee was sent back to Russia alone with note saying he's psychopathic
State Department sending team to work out an agreement
Moscow, Russia (CNN) -- Russia has put an end to the adoption of children by American families until rules covering them can be hashed out with U.S. officials, a Foreign Ministry spokesman said Thursday.
"Further adoptions of Russian children by the American citizens, which at present has been suspended, will only be possible in case such an agreement is reached," said spokesman Andrei Nesterenko.
The U.S. Embassy in Moscow said there's not too much reason for concern.
"I would say to American families that are in the process of adoption, not to worry too much," said John Beyrle, U.S. ambassador to Russia. "We're working on this and we really don't think that this will have any long-term effect on the ability of American families to adopt here."
State Department spokesman P.J. Crowley said officials are seeking to clarify the Foreign Ministry's comments.
"The Russian government has not informed us of any suspension," he said. "We have not been informed of any change in Russian policy regarding adoptions."
A State Department team is heading to Moscow next week to work out an arrangement that would allow adoptions to continue, a senior U.S. official told CNN.

Video: Reporting the Russian adoption scandal

Video: Russian adoption: A success story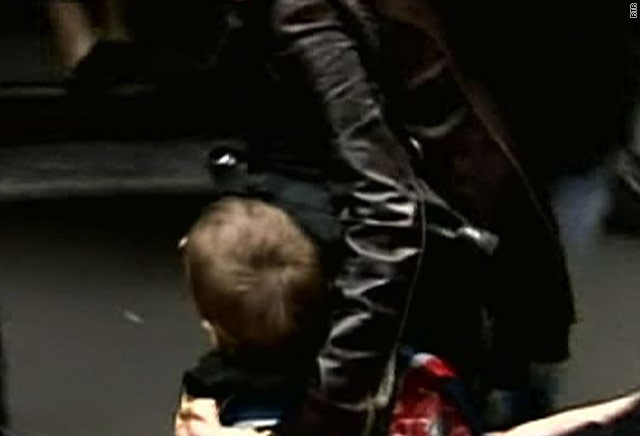 Russia-U.S. adoptions: How they work
A firestorm was created last week when 7-year-old Artyem Saveliev's American adoptive family put him on a solo, trans-Atlantic flight from the United States to Moscow. They hired a Russian driver to deliver the boy from the airport to the Russian Ministry of Education.
Russian officials allowed CNN to see a copy of a letter addressed to the Ministry of Education and signed by Artyem's adoptive mother, Torry Hansen, which the little boy carried when he arrived.
"To Whom It May Concern," the letter reads, "This child is mentally unstable. He is violent and has severe psychopathic issues/behaviors. I was lied to and misled by the Russian Orphanage workers and director regarding his mental stability. ... After giving my best to this child, I am sorry to say that for the safety of my family, friends and myself, I no longer wish to parent this child. As he is a Russian National, I am returning him to your guardianship and would like the adoption disannulled [sic]."
The abandonment of Artyem comes after the Russian media focused intense attention on several previous cases in recent years of abuse involving adopted Russian children in the United States. Not surprisingly, some Russians are calling for an end to the practice of foreign adoption.
Russian officials have made public appeals for a temporary freeze of American adoption of Russian children until a proposed bilateral treaty has been signed to allow monitoring of children after they are brought to the United States.
CNN's Max Tkachenko contributed to this report.