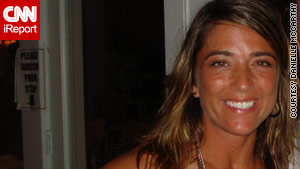 Danielle McCarthy is trying to get back to New York.
STORY HIGHLIGHTS
American woman is running out of Synthroid, a synthetic form of thyroxine
Danielle McCarthy says U.S. response to ash cloud has been "absolute disaster"
McCarthy is skipping days to make her medication last longer
NEW: Foundation: Better to get a replacement drug than skip days
London, England (CNN) -- A woman stuck in the United Kingdom because of the ash cloud and unable to secure medication for a life-threatening condition has called on the U.S. government to take urgent action to help stranded Americans return home.
Danielle McCarthy has been stranded in London since Thursday when she was due to fly home to New York after attending a sales conference.
But McCarthy's situation is complicated by the fact she needs to take a synthetic thyroid hormone, Synthroid, daily as a result of having her thyroid removed because of cancer.
She says she has not been able to get hold of the drug from pharmacists in the UK. Synthroid is a brand name for a synthetic form of thyroxine known by the generic name Levothyroxine.
"I have to take Synthroid which the U.K. doesn't have," McCarthy told CNN. "They have a natural form of it, which doesn't absorb in my body the way that it should. I take a very high dose -- 250 mcg -- and it's been a nightmare trying to get my medicine."
But Judith Taylor of the British Thyroid Foundation told CNN that Levothyroxine was available in the UK, though not by the Synthroid brand name. In the UK it is known by its generic name or by the brand name Eltroxin.

She said those needing urgent medication should see a doctor, known in the U.K. as a general practitioner or GP, with details of their prescription.

Video: Virginia family separated by ash

Video: Ship to pick up UK troops, civilians

Video: Volcanic delays

Video: Airport misery at Manchester
"They can enroll her as a temporary resident and usually no costs are involved at all," she said.
McCarthy said the response of U.S. authorities to the disruption caused by the ash cloud had been an "absolute disaster."
"I called the U.S. Embassy and tried to get some information from them and they just referred me to the Web site and said there's nothing we can do, you need to go and talk to a doctor."
The U.S. Embassy Web site in London said that Americans stranded in the U.K. should "monitor local media reports and relevant airport and airline Web sites for information."
"If you need help refilling a U.S. prescription or with other ongoing medical issues exacerbated by the flight disruption then airport, airline, or hotel personnel should be able to contact a doctor or other medical professional on your behalf," it said.
McCarthy also said she had written to the White House and said that the U.S. should follow the U.K.'s lead by mobilizing the military to help get people home. British Prime Minister Gordon Brown said Monday that Royal Navy vessels had been deployed to bring home stranded travelers.
See Danielle McCarthy's iReport
"Why don't we put U.S. passengers on those UK navy ships take them back over and then bring back other people?" she said. "We need to stand together and work together rather than trying to figure this out individually."
McCarthy was due to fly home with American Airlines but has now booked a second flight with Virgin Atlantic to "double my odds."
She has bought a train ticket to Paris in the hope that she can travel onwards to connect with a U.S.-bound flight from Madrid.
McCarthy is also on standby to travel aboard the Queen Mary 2 luxury cruise ship departing from the English port of Southampton on Thursday and due to arrive in New York on April 29.
But she said getting home in a guaranteed seven days would make the trip worthwhile.
iReport: have your flights been disrupted? Send your images, video
McCarthy said it had been difficult being separated from her husband and three children for so long and not knowing when she would be able to get home.
She said her mother had also collapsed as she was speaking to her because of the stress of her situation and had to be taken to the emergency room.
McCarthy added that she was extending her medicine by skipping days but admitted that she was feeling the effects.
"Your thyroid controls everything, it controls your metabolism, it controls your energy, it controls all that... I'm extremely exhausted, my body just shuts down, I'm very emotional and there's nothing I can control."
Taylor, of the British Thyroid Foundation, said it was better to get a replacement drug than to ration the dosage and said either Eltroxin or Levothyroxine were "pretty much completely interchangeable" with Synthroid.
"They are almost identical and certainly for a few days it would do absolutely no harm," said Taylor. "They are inexpensive and if anyone is dependent on them then apart from filling in some details it should be possible to get the problem sorted out. I would expect any pharmacy in the UK to have it in stock."