STORY HIGHLIGHTS
Many historians believe Georgia to be the birthplace of wine
Archeologists have uncovered evidence of wine-making dating back 8,000 years
Over 500 grape varieties exist and wine is produced using clay vessels called kvevri
Editor's note: CNN's new series i-List takes you to a different country each month. In April, we visit the Republic of Georgia focusing on changes shaping the country's economy, culture and its social fabric.
Tbilisi, Georgia (CNN) -- The first time I saw how Georgians make their wine was in 2008, in a village high up in the mountains called Chaituri.
I was interviewing Mamuk Kevlishvili, a young father, husband and former Georgian infantry soldier who had ended up after only a few months of training, trapped behind enemy lines during Georgia's short and bloody 2008 war with Russia.
After spending an hour discussing his harrowing escape from the war zone and his struggle to overcome the lingering psychological damage from the trauma, Kevlishvili invited me to the backyard of his mother's modest house where he said he would fetch a pitcher of homemade wine for lunch.
His long-deceased father had planted several rows of vineyards on a hillside.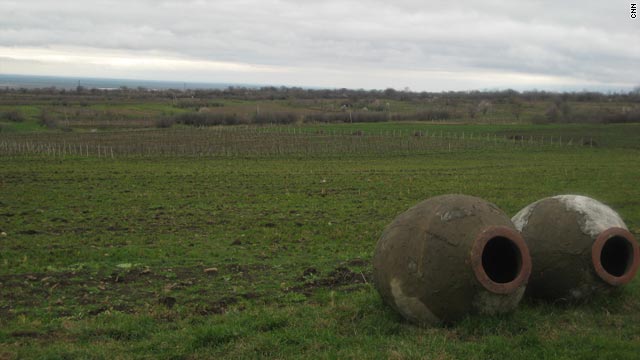 Gallery: Georgian wine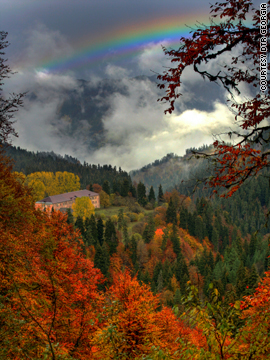 Gallery: Georgia landscape
Nearby, Kevlishvili knelt and pulled up a metal lid, exposing the opening of a tank, buried underground, which was filled to the rim with full of frothy red wine.
The 23-year-old plunged a broom handle with a plastic jug tied to the end of it to the bottom of the tank. He explained to me that the grape juice is traditionally fermented in these underground vats, which Georgians call "kvevri."
At lunch I sipped a glass of the rich, fruity stuff along with a delicious meal of baked beans (lobia), fried potatoes, eggplant, green leeks, and puffy Georgian flat bread -- all homemade, all home-grown. To help wash the food down, Kevlishvili poured additional glasses of amber-tinted home-made white wine.
When I left -- my stomach full and cheeks rosy from wine and the chill mountain air -- Kevlishvili offered me a water bottle filled with more of his heady, homemade grape juice.
Over the years, many Georgians, including this ex-soldier, a bearded priest, a star ballerina, and even the patriarch of the Georgian orthodox church, have offered me similar parting gifts, but usually only after inviting me to taste the country's national beverage.
Vinification, or winemaking, is deeply ingrained in the culture of this ancient Christian country, perched in the mountains of the Caucasus.
The world's most ancient example of winemaking was found in Shulaveri, a region in southern Georgia. There, archaeologists discovered evidence of wine residue inside ceramic jars that were dated back some 8,000 years.
For the last half century, a twenty-meter high statue called Kartlis Deda, or Mother of Georgia, has stood on a mountain-top overlooking the capital Tbilisi. In one hand, she holds a sword as a warning to enemies, in the other, a clay bowl full of wine to offer guests.
Georgians traditionally serve wine in bowls made of clay -- much like the buried, clay kvevri urns in which Georgian wine is traditionally made.
"Grapes are grown from the earth and great wine is made in the earth. And great wine should be drunk from the earth," said wine-maker Malkhaz Patalashvili, as he handed me a clay bowl full of wine.
Test your knowledge of Georgia
Patalashvili had just spent 15 minutes digging away the sand seal that covered a kvevri at a small winery, owned by a new Georgian vineyard called "Pheasant's Tears."
The wine was a 2007 vintage made from Georgia's indigenous saperavi grape. After Patalashvili gave a long and heartfelt toast, I took a deep gulp of the stuff. It was slightly effervescent and also slightly creamy -- having just been ladled from the kvevri. Simply put, it was delicious.
"In Georgia there are 540 endemic varieties of grapes known. There are only 3,000 known in the world," said John Wurdeman, a resident American artist and founder of Pheasant's Tears. The winery is located near a 16th century monastery in the Kakheti Valley, Georgian wine country.
"When you have 540 unique varietals that don't grow anywhere else, that are aborigines to this territory," Wurdeman added, "You need to explore that, and that will be very exciting to the outside world."
Pheasant's Tears is just one of the many wineries that have cropped up across Georgia in recent years. After shipping their wine for decades to markets in the former Soviet Union, Georgia's winemakers are now struggling to introduce their products and their unique wine-making techniques to the rest of the wine-drinking world.
Since Russia slammed an embargo on Georgian wine several years ago, Georgian wines have started appearing for the first time on store shelves in neighboring Turkey.
In all honesty, however, sipping Georgian wine from a long-stemmed glass cannot compare with the experience of drinking homemade wine at a table groaning with local food, amid endless heartfelt toasts; the wine alive on the taste buds, freshly ladled from the family kvevri.
Watch CNN's week-long coverage live from Georgia at 1930 GMT|2030 CET from 19 April.