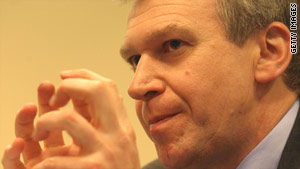 Belgian Prime Minister Yves Leterme
STORY HIGHLIGHTS
NEW: Leterme's government collapses
There is longstanding tension between the country's Dutch- and French-speakers
A dispute over electoral boundaries around Brussels sparked the latest flare-up
PM to stay in office until the king decides whether to call for new elections
(CNN) -- The king of Belgium accepted the resignation of Belgian Prime Minister Yves Leterme Monday, the government press office told CNN.
The acceptance of his resignation signals the collapse of Leterme's government.
The prime minister offered to step down after a Flemish liberal party withdrew from a coalition government, according to news reports.
Leterme met with King Albert II on Monday, where the resignation was accepted, but they agreed that the prime minister will stay in office until the king decides whether to call for new elections or finds another way out of the political crisis.
Leterme's government is now, in effect, a caretaker government awaiting the king's decision, a spokesman for the king said.
"I don't expect this decision to be taken tonight," the spokesman said. "Maybe tomorrow, but we will have to wait and see."
Tension is longstanding between Dutch- and French-speaking populations in the European country.
A dispute over electoral boundaries around the nation's capital sparked the latest flare-up, Heather Conley, director of the Europe Program at the Center for Strategic and International Studies told CNN.
"There's been a lot of friction. It rears its head in different manifestations," she said.
Government business will continue despite Leterme's resignation, she said.
"Things keep moving forward, but big decisions are delayed," she said.
Charles A. Kupchan, a senior fellow for Europe Studies at the Council on Foreign Relations, told CNN the split between the Dutch-speaking Flemish and French-speaking Walloons is not a new source of political turmoil in Belgium.
"It's one of the main lines of cleavage in Belgian politics ...The governments in Belgium of late have been short-lived and unstable because of this continuing issue," he said.
Conley said the Belgian government's collapse could have larger implications across Europe. Brussels, Belgium's capital, also serves as the capital of the European Union, where leaders are currently debating a possible rescue package for Greece's economy
"Grappling with a very important issue like this, you don't need governments to collapse, and you don't want the government to collapse at the seat where Europe needs to meet and come together," she said.
The consequences could stretch beyond Belgium's borders, Kupchan said, as the country is slated to hold the rotating presidency of the European Union in the second half of this year.
"People are worried that at the time when Belgium is supposed to be leading Europe, the country's government will be floundering," Kupchan said.
CNN's Catherine Shoichet and Claudia Rebaza contributed to this report.