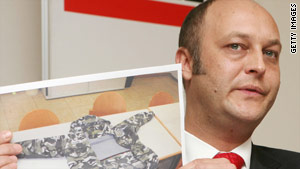 State attorney Gerhard Jarosch shows a police picture of a jacket worn by a suspected killer of Israilov.
STORY HIGHLIGHTS
Ramzan Kadyrov, president of Chechnya, implicated in dissident's murder

Umar Israilov killed in Vienna in 2009

Three suspects in Austrian custody

Kadyrov denies involvement in killing

Grozny, Chechnya (CNN) -- A spokesman for the president of Chechnya flatly rejected an Austrian police investigation that implicated the Chechen leader in the 2009 murder of a Chechen dissident in Vienna.
"Ramzan Kadyrov has not been involved in any way -- directly or indirectly ... (with) the events that happened in Vienna that led to the death of Mr. (Umar) Israilov," Kadyrov's spokesman, Alvi Karimov, told CNN Wednesday.
The murder investigation threatens to further tarnish the reputation of Chechnya's 33-year-old leader. For years, Kadyrov -- Moscow's strongman in Chechnya who is credited with bringing relative stability to the region -- has been dogged by accusations of human rights abuses as he fought a brutal campaign to bring an end to Chechnya's bloody insurgency.
This week, the Vienna public prosecutor's office announced Austrian police completed their investigation into the fatal shooting of Israilov on January 13, 2009. Three Chechen suspects were in Austrian custody and were likely to be indicted for the murder, said the spokesman for the public prosecutor.
"In this final report there is also circumstantial evidence that connects the killing to Mr. Kadyrov and other people in his surroundings," said Gerhard Jarosch, spokesman for the Vienna public prosecutor, in a telephone interview with CNN. "The police say that leads to the assumption that Mr. Kadyrov ordered at least the kidnapping and maybe the killing of Mr. Israilov."
Jarosch said that minutes after the shooting of Israilov, one of the suspects made an 11-second phone call to Shaa Turlayev, one of the top aides to the Chechen president. The police report also says Turlayev met in Austria with some of the murder suspects three months before the killing.
In addition, investigators discovered in one of the suspect's cell phones a photo of a suspect taken alongside Kadyrov.
A possible motive is that Israilov served as a chief witness before the European Court of Human Rights in a case against Kadyrov, during which he claimed he was personally tortured by the Chechen president.
Kadyrov confirms he was acquainted with Israilov, but denies any link to the killing.
"If he were my blood enemy, I could have probably considered that," Kadyrov said Tuesday during a midnight news conference with foreign journalists at a palatial residence outside Grozny. "But he was a handsome guy. He asked somebody to talk to me to give him a chance to come back home (from exile).
"I had indeed detained him some time ago and then he was released," Kadyrov added.
Referring to Israilov's history as a rebel fighter, he said Israilov's "biography was absolutely clear and was no secret to anyone. He had indeed been killing people. ... I can tell you there were dozens of people he was embroiled with in blood feuds."
Before seeking asylum in Austria, Israilov had purportedly switched sides, leaving the Chechen rebel fighters and eventually joining Kadyrov's pro-Russian security forces.
Known as "Kadyrovtsy," these Chechen police and paramilitaries have been accused of widespread human rights abuses, including kidnappings and extrajudicial killings.
Israilov had been captured by those security forces, led by Kadyrov, who is the son of the Chechen president assassinated in 2004.
Kadyrov became deputy prime minister after that assassination, then rose to prime minister and, in 2007, president.
Despite the conclusions of Austrian investigators, the Vienna public prosecutor's office argues there is not enough evidence to indict Kadyrov in the Israilov murder.
"The police drew these conclusions," said Jarosch, the public prosecutor's spokesman. "We can't say that Mr. Israilov was killed on the direct order of Mr. Kadyrov due to this circumstantial evidence."
A number of prominent critics of Kadyrov have been killed in recent years, including a rival Chechen military commander who was gunned down in Dubai and a human rights activist who was kidnapped and killed in Grozny -- both in 2009.
But Austrian authorities are arguing that evidence in Israilov's killing points toward a botched kidnapping attempt.
"We think that they wanted to kidnap him, abduct him and bring him to Chechnya. Then it went totally wrong," Jarosch said. "And one of the Chechens shot Mr. Israilov when he tried to get away."
The suspected shooter fled Austria and is believed to be in Russia. It may be months, Austrian officials say, before a final indictment is published.