STORY HIGHLIGHTS
Police clash with protesters in Athens after lawmakers back budget cuts
Greek lawmakers vote in favor of austerity package demanded for bailout
Greek bank condemns killings of three employees as protesters return to streets
Men died after fire bomb hit bank in central Athens during protests Wednesday
Athens, Greece (CNN) -- Violence broke out briefly between police and demonstrators here Thursday night, hours after Greek lawmakers approved an unpopular package of budget-cutting measures.
Thousands of demonstrators had gathered in front of Parliament to show their anger, and as dusk fell bottles were thrown at police, who responded with tear gas and pepper spray, said CNN's Diana Magnay, who was at the scene.
The government is cutting public-sector salaries, raising the retirement age for women in the public sector and imposing new taxes in order to secure billions of euros in loans from the European Union and International Monetary Fund.
Crowds dispersed quickly, Magnay said.
Four people were arrested, police said.
Demonstrations Thursday were smaller and generally more peaceful than a day earlier, when general strikes turned violent and three people were killed when a bank was fire bombed.
iReport: Are you there? Send your pics, video
Two unions had called on workers to meet Thursday evening in front of Parliament to protest the measures, which include higher taxes on cigarettes, fuel, gambling and luxuries, and an increase in the value-added tax consumers pay on purchases.
Athens police say about 8,000 protesters were outside the Parliament building while the voting was taking place and another 10,000 were at Omonia Square, including members of the militant left-wing PAME union, who planned to walk toward Parliament later.

Video: Strikers riot In Greece

Video: Greece anti-austerity protests escalate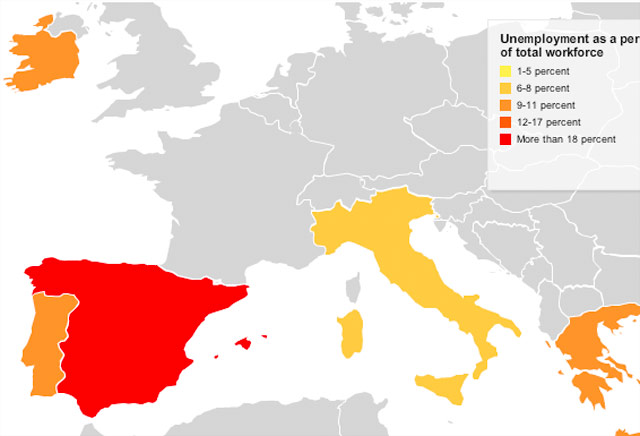 Europe's troubled economies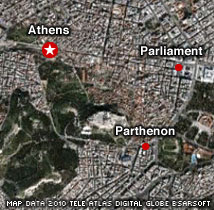 Map: Athens protests
It is not clear who started the violence. Shortly before it began police said the PAME supporters had dispersed peacefully.
Greek lawmakers voted 172 to 121 to approve the controversial package of cost-cutting measures, despite the protests, the prime minister's office announced.
The Dow Jones Industrial Average plummeted as the protests broke out, falling nearly 1,000 points and dropping below 10,000 before climbing back up and ending slightly above 10,500. Shortly after the close, the Nasdaq said faulty Procter & Gamble stock quotes were a major factor in markets' huge drop.
The European Union announced a 110 billion euro ($140 billion) aid package for Greece earlier this week.
Finance Minister George Papaconstantinou announced the tough cost-cutting measures to meet European Union and International Monetary Fund conditions for the deal.
Prime Minister George Papandreou said Wednesday night that no amount of unrest on the streets would change his support of the budget cuts, and he has already said he is prepared to risk not getting a second term in office because he feels the package is so important for Greece's future.
"We are all to blame for where we are today -- even those not in government who at every stage have blocked every attempt at change," Papandreou told Parliament.
"Other countries are voting to save Greece," Papandreou said in comments directed at the opposition. "What do we say to them? Can we not unite?"
Thursday at the burned bank, people placed flowers at a memorial for the victims killed in Wednesday's violence.
Greek government debt threatens to undermine the stability of the euro, the currency used by 16 countries in the European Union, including Greece.
International ratings agency Standard & Poor's downgraded Greek debt to "junk" recently, making it harder and more expensive for Athens to borrow money commercially. That's when the European Union and International Monetary Fund decided to intervene.
Leaders of the countries that use the euro were planning to meet Friday evening in Brussels, Belgium, to finalize the bailout and discuss the effect it's having on the eurozone.
"This crisis has demonstrated that all euro-area member states have a responsibility for the stability of the euro area as a whole and the strength of the single currency," French President Nicolas Sarkozy and German Chancellor Angela Merkel wrote in a joint letter Thursday to the presidents of the European Council, which is hosting the summit, and the European Commission.
Sarkozy and Merkel urged country leaders at the summit to consider tougher fiscal surveillance and more effective sanctions for eurozone members.
They also pushed for better-quality statistics, saying, "The lack of reliability of the Greek statistics explains to a large extent the markets' distrust in this country."
CNN's Diana Magnay and journalist Mary Retiniotis contributed to this report.
FOLLOW THIS TOPIC