STORY HIGHLIGHTS
Marco Calasan holds four Microsoft certificates and has written a book on Microsoft's Windows 7
He has set up his own content delivery network system entitled IPTV
He speaks three languages and is learning a fourth

CNN's new series i-List takes you to a different country each month. In May, we visit Macedonia focusing on changes shaping the country's economy, culture and its social fabric.
Skopje, Macedonia (CNN) -- A colorful mural runs along the outside the Blaze Koneski public school in Macedonia, but it's been vandalized by graffiti artists who spray their tags all over the school.
There are metal bars on the windows and the building itself is run down and dilapidated. We are here to interview a "child prodigy" for CNN's i-List Macedonia.
Marco Calasan is the youngest Microsoft systems engineer in the world, holds four Microsoft certificates and has written a 312-page book on Microsoft's Windows 7.
As we enter the classroom a young boy with a warm smile and dark, curly shoulder length hair pulled back in a ponytail, extends his hand and introduces himself.
Marco is just nine years old; he's an only child and a computer genius. He takes us on a tour of the school computer lab, as if it were his home. Marco only lives across the road but spends endless hours in here working away each day, well and truly after the school bell has rung.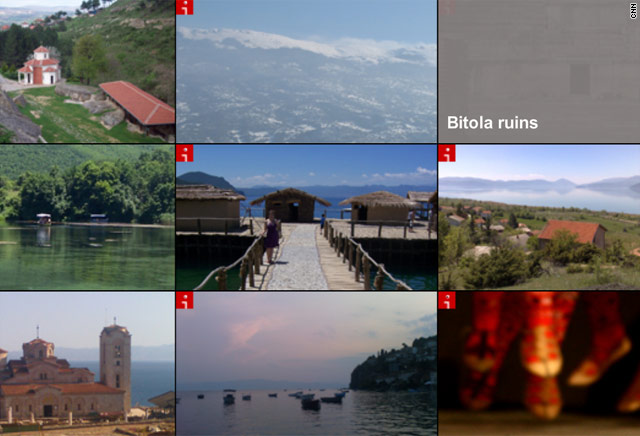 iReporters share their images of Macedonia
Asked why he loves computers so much, Marco responds sagely that, "with knowledge, everything is possible." He goes on to give a detailed explanation of IPTV - the content delivery network system that he set up all by himself.
With his sweet, innocent voice, Marco explains how he streams high quality video throughout Macedonia and even provides a service for the country's disabled.
Throughout the conversation, the word "Microsoft" peppers every single sentence and it becomes clear this child is obsessed with Bill Gates' creation.
And while you'd think his impressive resume at such a young age would give him the right to be precocious, Marco is the complete opposite.
He's humble, friendly and so very patient as I ask him to repeat and re-explain the computer jargon that flies over my head.
I ask whether he sees himself as special and gifted. He tells me he's just a regular kid, and forgets that he has all this knowledge in his head when he plays with his friends.
But Marco is anything but normal. He speaks three languages and is learning a fourth and while English is not his mother tongue, his command of the language and vocabulary is mind-boggling. In finite detail he explains the ins and outs of computers and the curriculum he's teaching his peers and adults. He even educates his own teachers.
Later this month he's going to Montenegro where the government has asked him to give a presentation on his IPTV system.
Marco's brain function is quite extraordinary. Professor Elena Achkovska-Leshkovska at the Institute of Psychology in Skopje tested Marco when he was seven years old. She found that his brain operated the same as a child over the age of 12. But just as fascinating was his high level of emotional and social skills. Something not normally found in such gifted children.
As Marco chats away with the crew, his mother Radica stands proudly in the background. With her jet back hair, slender figure and smiling face, this pretty young mum watches as her son dazzles the room.
Their bond is exceptionally close as they describe each other as best friends. Radica works seven days a week running a computer business to make ends meet and every cent she earns goes straight to Marco and furthering his education.
Last month Radica had a health scare when she was diagnosed with breast cancer. She spent a week in hospital having the tumor removed and when she got home, Marco had printed off more than 200 pages of information on breast cancer treatments, and what his mom should eat to make a full recovery.
Doctors have told Radica she must undergo chemotherapy but she's reluctant to do so because she's concerned she won't be able to care for her little boy. Her other concern is Marco's future. She knows he needs opportunities and an education system that exists only in expensive overseas schools. Something she cannot afford.
Despite the obstacles and challenges that await them both, a sense of calm and optimism surrounds this little boy and his mother. They walk us out of the school and watch us leave, Radica with her arm lovingly around her gifted son.