STORY HIGHLIGHTS
Britain's most remote pub, accessible only by boat, is on sale for $1.1 million
Mainsail takes a look at other magical places you can only get to by boat
The carved buddhas of Pak Ou Caves in Laos in Southeast Asia
Plus, Bled Island in the middle of Lake Bled in northern Slovenia
London, England (CNN) -- It's a long way to travel for a glass of beer.
The Old Forge pub in Knoydart is on a small peninsula off the west coast of Scotland and it's only accessible by boat -- or a 20-mile hike through the formidable Scottish Highlands.
It is Britain's most remote watering hole, say its owners, yet, in spite of its far-flung location, it is regarded as one of the country's finest pubs.
"We've won more awards than we know what to do with," owner Jackie Robertson, told CNN.
"We get hippies, millionaires, musicians, novelists, actors, poets and politicians," she said of the visitors who park their yachts at the pub's private moorings.
It is one of a number of attractions around the world that can only be accessed by boat. We take a look as some of the best.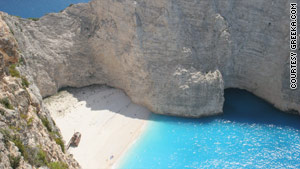 Navagio Beach, Greece
Navagio beach, Greece
Its picture-perfect golden sands and crystal blue waters encased by sheer white cliffs, Navagio is a secluded paradise well worth hiring a sailing boat for.
Also known as Shipwreck Bay and Smuggler's Cove, Navagio beach acquired its epithet from the giant, decaying boat marooned on its shore.
In the 1980s the freighter, suspected of carrying vast quantities of illegal cigarettes and wine, was pursued by the Greek navy until it crashed on this secluded beach on Greece's west coast.
Pak Ou caves, Laos
A jagged hole in the limestone cliffs of Pak Ou, near Luang Prabang in north central Laos, reveals a spectacular assembly of hand-carved Buddhist figures.
This is the entrance to Tham Ting, one of two caves etched into the water-locked promontory, where Buddhist pilgrims have come to worship for more than 500 years.
There are more than 4,000 sculptures lining the rocky stairways, resting on nooks in the cave walls and balancing on stone shelves.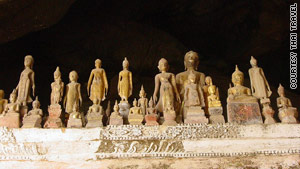 Pak Ou Caves, Laos
The caves are lit by just a few rows of candles and the torch beams of inquisitive visitors.
But access is granted only through the expertise of the locals -- on hand to ferry visitors across to the caves and back in small canoes.
Forbes floating island restaurant, San Francisco
If James Bond ran a restaurant, it would probably look something like this.
Situated on a man-made floating island in San Francisco Bay -- replete with white sand, palm trees and a genuine lighthouse -- this aquatic eatery has its own pontoon boat to bring customers from the nearby pier.
Once inside, the dining salon is decked out in wood-paneling and antique brass lamps. Below deck, an underwater catacomb with portholes offers diners a glimpse of passing fish.
Maiden's Tower, Istanbul
The historic beacon, originally built by Athenians in 408 BC, sits on a small islet in the Bosphorus strait off the coast of Uskudar in Istanbul, Turkey.
Legend has it that a Byzantine princess was once confined to the tower by her father, Emperor Constantine, after soothsayers predicted an early death by snakebite. Sadly, the serpent still made it through in a basket of grapes and the princess duly perished, according to the fable.
Used as a lighthouse for centuries, the tower was featured in the 1999 James Bond film "The World Is Not Enough." Since then, it has been transformed into an upmarket cafe and restaurant -- a favourite among young lovers and a regular source of income for the competing water taxis.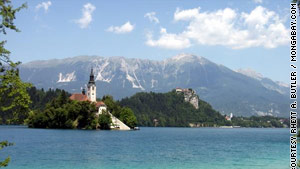 Assumption of Mary Pilgrimage Church, Slovenia
Assumption of Mary Pilgrimage Church, Slovenia
Slovenia may not have an abundance of natural islands -- in fact, it only has one -- but what it lacks in numbers it makes up for in jaw-dropping beauty.
Bled Island, located in north-western Slovenia near the Austrian border, sits in an emerald lake surrounded by the Julian Alps.
Visitors can get to the island on a traditional wooden row barge known as a "Pletna" -- no motorboats are allowed on the lake -- to visit the 15th century Baroque Church of the Assumption.
According to folklore, a husband who can carry his new bride up the 99 steps from the dock to the church is guaranteed a happy marriage -- well worth the pilgrimage.
FOLLOW THIS TOPIC