STORY HIGHLIGHTS
Union leader "satisfied" by response to Tuesday's strike
Loud, disruptive protests in Madrid as workers went inside the city hall
Workers unhappy about 5 percent pay cut, planned wage freezes
Country also plans pension freeze as part of austerity plan
Madrid, Spain (CNN) -- Spain's civil servants went on strike Tuesday to protest the government's decision to cut their pay 5 percent this year and freeze it next year as part of an austerity plan to reduce the country's deficit.
The 2.5 million civil servants whose salaries are being cut represent nearly 11 percent of Spain's 23 million total workers.
"We are satisfied" with the response of workers to the strike, said Ignacio Toxo, leader of the Workers Commissions (CCOO) trade union -- one of the two big unions that convened the strike.
Dozens of union picketers, carrying red banners and placards for the CCOO and the other major union, the General Workers Union (UGT), shouted noisily as some workers went inside the Madrid city hall and other government buildings in central Madrid on Tuesday morning.
Several hundred union activists marched down part of a main boulevard, snarling traffic. The strike had little effect on public transportation nationwide, with only a few problems reported in provincial capitals, like Valladoloid.

Video: Spain's government workers protest cuts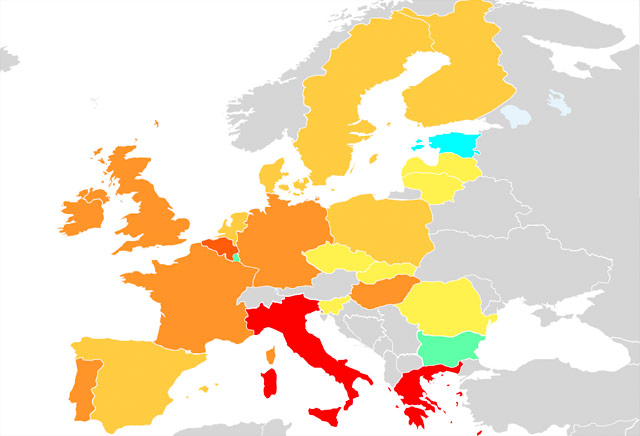 Debt levels of European nations
Finance Minister Elena Salgado, on Spanish radio SER, said the government "respects the unions and the strike and hopes the unions will respect the need for minimum services" at strategic offices, such as health care facilities.
Soledad Artacho, the head of nursing at a neighborhood clinic, is among the 2.5 million government workers whose salaries are being cut due to Spain's austerity plan.
"I feel bad that it's us who are paying for this, when we're not to blame," she said. "It's the financial managers, or the politicians, who didn't know how to control what was happening."
A single mother, Artacho is paying for a mortgage, a university education for her daughter, and other bills. But she'll lose nearly 5 percent of her salary -- €130, or $155, per month for the rest of year -- and her reduced salary will be frozen at that level next year.
"Civil servants, with stable salaries, could boost consumption to help the economic recovery. But I think consumption will decline now," Artacho said.
Ratings agency Fitch expressed the same concerns about the country's economic growth when it downgraded Spain's credit rating from AAA to AA+ last week.
The downgrade further rattled investors concerned about possible contagion in Europe from debt-burdened eurozone members.
"Excessive amounts of talking that happens about possible contagion in Portugal, Spain and Italy has made investors a bit skittish," Dragana Ignjatovic, Europe political analyst at IHS Global Insight told CNN.
She said lack of confidence in global markets was undermining Spain's efforts to introduce austerity cuts and labour market reforms, but its problems were not as severe as ailing eurozone member, Greece.
"A Greek-style scenario is still not on the cards for Spain," she said. "The government is firmly in control of what needs to be done and is actually pursuing all of the measures that are required to get Spain out of the problem it's in."
Unions have threatened a general strike if the government imposes further labor reforms, which could mean lower severance pay costs for workers fired or laid off from fixed contracts.
The most protected workers currently receive 45 days pay for every year worked if they are fired or laid off, and some economists and business owners would like to lower that to 20 days.
Unions indicate that would be a red line that could trigger a general strike, and some Spanish media outlets said Tuesday's strike amounted to a dress rehearsal.
Ignjatovic said that a general strike was almost inevitable if the government pushes through its reforms, but Spanish law would ensure that it would not bring the country to a standstill.
"Under Spanish law unions are required to provide minimum staffing so the country wouldn't grind to a halt even if the general strike was called, so there are provisions that would ensure the impact that the impact on the economy would be somewhat limited," she said.
A greater concern for Prime Minister Jose Luis Rodriguez Zapatero is the widening gulf between his ruling Spanish Socialist Workers' Party (PSOE) and its traditional allies, the unions.
The Spanish parliament, sharply divided despite the nation's big deficit and debt and shaky Madrid stock market, approved the austerity plan by a one-vote margin. If Zapatero loses the support of the unions, he will need to keep smaller regional parties on board if the government is to push through reforms and stay in power.
Talks on labor reforms continue between government, unions, and business owners but Zapatero says he wants a deal by June 16.
FOLLOW THIS TOPIC