France orders Hamas TV station off air, agency says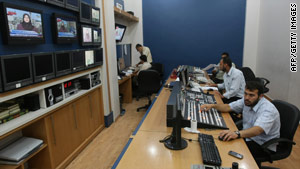 Palestinians work at Hamas-run Al-Aqsa TV in Gaza City on June 15 after Paris decided to take it off the air in France.
STORY HIGHLIGHTS
Hamas channel accused of inciting hatred or violence
Station head says action politically motivated
Cites station's coverage of deaths on flotilla boat
Says France has short time to reverse decision
(CNN) -- France has asked that the official Hamas-run TV channel Al-Aqsa not be broadcast through French-based satellite provider Eutelsat on the grounds that the station has violated a prohibition on incitement to hatred or violence based on race, religion or nationality, the French broadcasting monitoring agency said in a release.
The station has broadcast "several programs ignoring this prohibition," the Conseil Superieur de l'Audiovisuel said in a June 9 release obtained Tuesday by CNN.
Hazem Al-sha'rawi, the head of Al-Aqsa, said the decision was politically motivated.
"What is new is the decision is now coming from France after the success of Aqsa TV in broadcasting the campaign of the 'Freedom Flotilla' and exposing the wrongdoings of the Israeli practices that took place," Al-sha'rawi told CNN.
"Always after the success of media outlets in exposing the wrongdoings of the Israeli practices, decisions are made and usually are blackmail decisions. A short time is left for France to reverse this decision," he said.
Israel says the commandos were acting in self-defense, pointing to videos that show people on the boat swinging clubs at the Israeli military members as they lowered themselves onto the ship on ropes from helicopters.