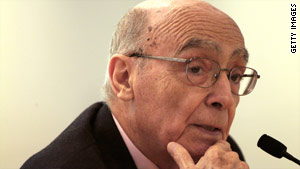 Jose Saramago was best known for his allegorical novel "Blindness."
STORY HIGHLIGHTS
Outspoken author was Portugal's first Nobel laureate in literature
Born into peasantry, Saramago was a staunch leftist
His blunt words mired him in controversy
He is best known for his allegorical novel "Blindness"
(CNN) -- Jose Saramago, the outspoken Portuguese author who won the Nobel Prize for literature in 1998, died Friday at his home on the Spanish island of Lanzarote, his foundation said.
Saramago, 87, suffered from a prolonged illness that caused multiple organ failure. He was surrounded by family, the statement on his foundation's website said.
In awarding literature's highest prize, the Nobel committee recognized Saramago as one "who with parables sustained by imagination, compassion and irony continually enables us once again to apprehend an elusory reality."
Portugal's first Nobel laureate in literature was perhaps best known around the world for his allegorical novel "Blindness," a tale of a nameless nation that loses its sight.
Reviewers debated Saramago's intention with the oddly punctuated book, but one insight came from the sole character in the book who is spared the "white blindness" affliction: ''Why did we become blind, I don't know, perhaps one day we'll find out, Do you want me to tell you what I think, Yes, do, I don't think we did go blind, I think we are blind, Blind but seeing, Blind people who can see, but do not see.''
The words came from a man born into peasantry who survived political turmoil.
"The wisest man I ever knew in my whole life could not read or write," Saramago said in his Nobel acceptance speech. "At four o'clock in the morning, when the promise of a new day still lingered over French lands, he got up from his pallet and left for the fields, taking to pasture the half-dozen pigs whose fertility nourished him and his wife. My mother's parents lived on this scarcity, on the small breeding of pigs that after weaning were sold to the neighbors in our village of Azinhaga in the province of Ribatejo."
Saramago's parents were farmers, but he was sent to school in Lisbon. He later worked as a draftsman, a publisher's reader, an editor, a translator and a political commentator for the newspaper Diario de Lisboa.
But when Portugal's fledgling Communist revolution was overthrown in 1975, Saramago, like other prominent leftists, lost his job. The card-carrying Communist traded politics for the pen, devoting himself to writing novels.
Many, including "Baltasar and Blimunda," became best-sellers and hailed by critics as literary masterpieces. His books were translated into more than 25 languages.
Saramago credited the characters in his books for the man he had become.
"In one sense, it could even be said that letter by letter, word by word, page by page, book after book, I have been successively implanting in the man I was the characters I created," he said in his Nobel speech.
"I believe that without them ... maybe my life wouldn't have succeeded in becoming more than an inexact sketch, a promise that like so many others remained only a promise, the existence of someone who maybe might have been, but in the end could not manage to be."
He left his native Portugal in the early 1990s after the conservative government barred his novel "The Gospel According to Jesus Christ" from a European literary prize. The book, a heretical retelling of the New Testament, had drawn the ire of Catholic readers.
Saramago used his Nobel stature to comment on a variety of topics, thrusting himself into controversy and headlines around the world. The nonconformist writer was never one to mince words.
In 2002, for instance, he compared Israel's treatment of the Palestinians to the Nazi death camp at Auschwitz.
He recognized that his bluntness could sometimes offend. "I am skeptical, reserved, I don't gush, I don't go around smiling, hugging people and trying to make friends," he said.
Saramago, a tall, austere man, made a rare jest in a 2008 interview with the Guardian newspaper after he was rushed to a hospital with a respiratory illness.
"They were reluctant to take me because I was in such a serious condition," he said, adding, "they didn't want to be the hospital where Jose Saramago died."
Saramago's wife, journalist Pilar del Rio, helped launch the Jose Saramago Foundation, and in the last years of his life, the complex writer even tried his hand at blogging.
A posting Friday on his website cited a 2008 interview with Portugal's Revista do Expresso: "We lack reflection, thinking, we need the labor of thinking," Saramago said, "and it seems to me that, out of ideas, we are not going anywhere."
CNN"s Moni Basu contributed to this report.
FOLLOW THIS TOPIC