STORY HIGHLIGHTS
Mother's attorney says she's "distressed," "depressed" and "falling apart"
Attorney says the woman admits killing and hiding the babies, but denies burying them
Daughters say news that their mother killed 8 newborns is "incomprehensible"
Prosecutors say the woman is overweight and could conceal her pregnancies
Douai, France (CNN) -- A French woman who admitted to giving birth to and then smothering eight babies over a 17-year period is "falling apart," according to her attorney.
Lawyer Frank Berton told CNN Friday the woman, Dominique Cottrez, was "psychologically very distressed. She is depressed and falling apart. However, she admits to the crimes and she even helped the police discover the bodies."
Cottrez told investigators she killed the babies because she did not want to have any more children and did not want to see doctors for contraceptives, prosecutor Eric Vaillant told reporters Thursday. Cottrez is overweight and was able to conceal the pregnancies, he said. On Thursday, prosecutors said they had charged her with murder.
"She has been plagued by this for a long time and now she is relieved," Attorney Burton said. "My client will be undergoing psychological tests and treatment to try and understand what pushed her to commit these murders." Burton speculated on one reason: "I believe she could have suffered from pregnancy denial." Burton said Cottrez was a nurse assistant. "She comes from a conventional background. Something went very wrong. One cannot spiral down into horror without an explanation."
Cottrez was secretive but always supportive of her family, two of her daughters said in a local newspaper report published Friday.
"It's incomprehensible," Virginie, 21, told La Voix du Nord newspaper.
Cottrez said she hid the pregnancies and deaths from her husband, Vaillant said. And daughters Virginie and Emeline, who came to court to support their mother Thursday, told La Voix du Nord they were also shocked by the news.
"We never noticed anything. She had moments of fatigue, it's true, but she was working almost 24 hours a day. She would wake up early for her work as a nurse's home aid, and when she would return home, she had her housework," the newspaper reported the daughters' saying.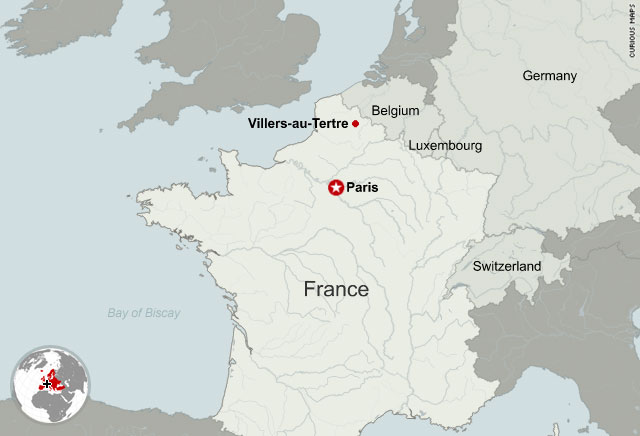 Map: Babies' bodies found in France
They described their mother as a caring person who often babysat her grandchildren.
"For us, it's something that one sees on television, but not in a little town like ours," Emeline said, according to La Voix du Nord.
The case came to light when a couple gardening in their backyard in the northern town of Villers-au-Tertre found two babies' bodies in sealed plastic bags and called police.
As word spread and reporters descended on the village, which local media have said has a population of about 700 people, residents said they were still reeling from the news.
Cottrez, 45, grew up in Villers-au-Tertre. Her parents, farmers who are now dead, owned a large part of the arable land in the village, according to La Voix du Nord.
Thursday morning, the village priest left eight candles in front of the door to the couple's home, La Voix du Nord reported.
Police spoke to Cottrez and her husband, who had previously lived in the home, and Cottrez admitted immediately that she was the mother of the two babies the couple found gardening, Vaillant said. She then told police about six others concealed in their garage, Vaillant said.
Those six bodies were also in sealed plastic bags but were covered by various objects, he said.
Cottrez's attorney said Friday she denies burying the babies. "She is adamant about the fact that she did not bury the babies in the garden. She also says it is definitely not her husband. We don't know who did it but she is certain she didn't do it and neither did her husband," Burton said.
The babies were born between 1989 and 2006, but their exact birthdates aren't known, Vaillant said.
Cottrez had psychological problems from her first pregnancy, said Pierre-Jean Gribouva, the lawyer for her husband.
"My client is in a deep state of shock," Gribouva told CNN affiliate BFM. "He had no idea about this. He has totally fallen apart."
A difficult first pregnancy sparked Cottrez's actions, Vaillant said. Because of her weight, the first pregnancy was "traumatic," and she didn't want to go through it again, he said.
Vaillaint did not explain why Cottrez went through a second pregnancy with her other daughter before apparently committing the crimes.
The father, Pierre-Marie Cottrez, hopes the public does not make "simplistic conclusions" about his wife, Gribouva told BFM.
Despite reports that the husband had been charged, Vaillant said he was free to go but may still be investigated. Vaillant said he personally still had "doubts" about the father's story.
"The sky has fallen in on his head," Vaillant said of the father.
CNN's Saskya Vandoorne and Miranda Leitsinger contributed to this report.
FOLLOW THIS TOPIC