STORY HIGHLIGHTS
Belgian headscarf designers Noor D'Izar sell from Paris to Dubai
Noor D'Izar is notable for its stylish and practical headscarf designs
Veils are a controversial subject in Belgium -- many schools and offices have banned the hijab
The company hopes to put the headscarf back in the world of fashion
(CNN) -- Muslim headscarves might not be the most obvious garments for a high fashion makeover, but that's just what two Belgian women have given them. And now, their designs are selling from Paris to Dubai.
Noor D'Izar founders Inge Rombouts and Fatima Rafiy started the label with the idea of turning the hijab, or Muslim headscarf, into a stylish accessory -- for all women.
"I would love for two women, Muslim and non-Muslim, to look at our website and think they can both wear the scarves," Rombouts told CNN.
Rombouts is not Muslim but when Rafiy showed her these designs she instantly saw the appeal.

Video: Hijab on the cutting edge of fashion

Video: A look at Muslim wear in Indonesia
"[I'd] never seen anything like it, so I was a bit taken aback," she said. "I thought, 'Ooh, I like this.' I can wear it. You can wear it. Everybody can wear it. It's about draping. It's about fun. It's about fashion."
Noor D'Izar took their designs to Paris Fashion Week earlier this year where they caused quite a buzz, according to Rombouts.
"There was a lot of interest from the western world -- men and women," she said. "One man who rides a motorbike bought our leather design to wear over his helmet."
Since the launch of their company in 2009, orders from non-Muslims have been steadily rising. Their designs combine the practical and the stylish.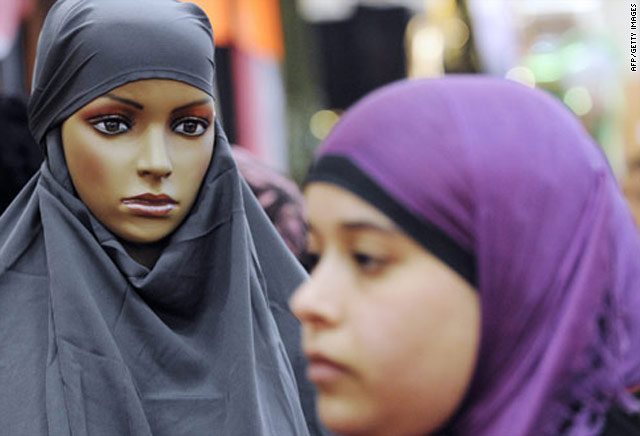 Explainer: Muslim head coverings
Many of the headscarves are made of T-shirt-style material and have built-in headbands. They don't require fiddly pins or elaborate wrapping, meaning they can be put on or taken off in seconds.
"I think the European women that have bought it like the practical side of it," said Rombouts. "I wear it 'cause it's just fun."
Rhemou Cheba, a Noor D'Izar customer from Antwerp, agrees.
It's not about politics. It's about fashion.
--Inge Rombouts
"I don't have to spend ages in front of the mirror pinning it, I can just slide it on and it stays on," she told CNN.
Noor D'Izar operates in Belgium -- a country that has a troubled relationship with the hijab. Many schools and offices have banned the Muslim headscarf, so deciding to wear one makes a definitive statement.
"The wearing of the veil doesn't have to be controversial," said Aziz Saliha, who stocks Noor D'Izar products in her Brussels clothing store.
"The debate around the veil is much politicized and it's just clothes, so that's what we want to do, bring the headscarf back into the fashion world where it belongs," Saliha said.
Right now, only around 10 percent of orders from Noor D'Izar are from non-Muslims, but as they launch their new winter collection Rombouts and Rafiy anticipate their fan base will continue to grow. As Rombouts said, "It's not about politics. It's about fashion."
CNN's Atika Shubert contributed to this report.
FOLLOW THIS TOPIC