STORY HIGHLIGHTS
Pope Benedict XVI met Queen Elizabeth II at her Holyrood Palace residence
His tour of the city in the "popemobile" was greeted by thousands, with few protesters
It is the first state visit by a pontiff to the UK after John Paul II's pastoral visit in 1982
Protesters included gay rights activists, protestant churchmen and atheists
Edinburgh, Scotland (CNN) -- Pope Benedict XVI received a warm welcome at the beginning of his historic state visit to Britain, despite the efforts of a colorful array of protesters in Scotland's capital to remind him of the Church's woes.
After the formal grandeur of his meeting with Queen Elizabeth II at her Holyrood Palace residence in Edinburgh, the pontiff was cheered by thousands of well-wishers along Princes Street, the city's main thoroughfare, as he was shuttled along in the distinctive "popemobile."
But on the opposite side of the castle, where Edinburgh's Georgian New Town gives away to its medieval Old Town, a familiar foe of the Catholic Church arrived at an austere church close to the Grassmarket -- where criminals were once publicly hanged -- to make his feelings known.
For Ian Paisley, the firebrand politician and staunchly protestant founder of the Free Presbyterian church in Northern Ireland, the meeting place was a statement in itself. The Magdalen Chapel is the headquarters of the Scottish Reformation Society where John Knox once preached against Catholicism. Knox is widely thought of as the founding father of the Protestant Reformation in Scotland.

Video: Pope's UK visit begins

Video: Protests planned for pope's UK visit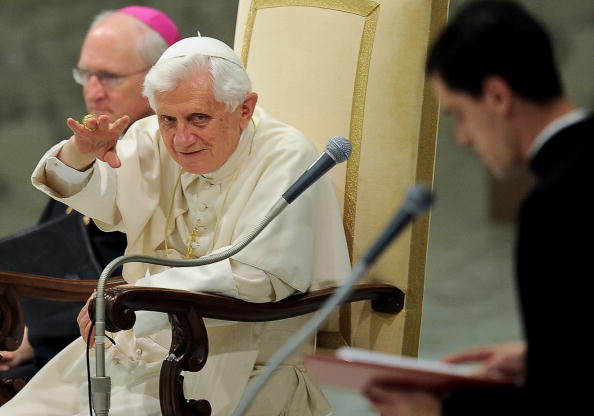 Gallery: Papal visits to UK
Flanked by dozens of stern, like-minded churchmen in dark suits, the 84-year old questioned why the pope was being treated "like a king" and accused the Church of not being open about the abuse scandal.
"He is going to be seeing people secretly about this, we're told, and not seeing the public about this very public matter."
Age had clearly not softened his fire and brimstone rhetoric as he explained the protests were "to show people that we are not going away as Rome wants us to. We still believe in religious liberty. We want the bible preached and obeyed."
A banner behind him proclaimed: "Free Presbyterian Church of Ulster remembering the reformation being now justified."
Barely five minutes walk away, another group of very different protesters gathered in front of an elegant office complex in Edinburgh's new financial district. A rainbow coalition of gay rights activists, humanists, feminists and atheists had been shepherded into a small area along the pope's procession route under the watchful eye of the police.
What the UK papers said about visit
Some had come straight from lectures at the nearby university, while others had the look of veteran protest aficionados in their bizarre array of costumes. But they chanted anti-pope slogans in unison, led by an enthusiastic cheerleader with a megaphone.
Friday -- Visits Archbishop of Canterbury at Lambeth Palace. Delivers speech in Houses of Parliament
Saturday -- Meets Prime Minister David Cameron. Holds Mass at Westminster Cathedral. Holds prayer vigil in Hyde Park.
Sunday -- Holds Mass in Birmingham's Cofton Park. Meets bishops of England, Wales and Scotland.
Protest organizer Mike Williamson, of campaign group "Protest the Pope," told CNN: "It's inappropriate to offer a state visit for many reasons. One is the Church pedophile scandal.
"Another is because of the pope's comments about condoms helping to spread HIV and Aids, even when he visited Africa where many are dying because of this issue.
"The list goes on and on so that's why we think it's wrong that the state should be offering a visit to the pope at huge cost to the taxpayer at a time of recession."
Sebastian, a German student living in the city, also disagreed with the Church's stance on condoms and gay and lesbian relationships. But he had another reason for attending the demonstration.
"Since the pope is from Germany I thought there should be some people at the protest representing my country," he said. "I hope he sees there are a lot of people that disagree with him in this country, especially as they are paying for him to be here."
It's wrong that the state should be offering a visit to the pope at huge cost to the taxpayer at a time of recession.
--Protest organizer Mike Williamson
There is little doubt Benedict XVI would have noticed as he swept by shortly after. Despite the number of protesters numbering in the hundreds rather than thousands, their color and enthusiasm made for a carnival atmosphere.
This was in stark contrast to the dour-looking protestant ministers and members of the Orange Order, the oldest protestant fraternity in Scotland, who had made their way to the opposite side of the road.
A hundred yards further down the road a lone elderly man provided a poignant reminder of the biggest issue facing Pope Benedict XVI.
With his cardboard sign, he accused the Church of telling lies. "They have long denied the abuse never happened in Ireland where I'm from. It did. It happened to me at the age of 13. It's happened in Belgium, it's happened in Germany."
When asked why he was not standing with the other protesters, he explained their issues were not his concern and that this was his personal message to the pope.
Such was the scale of the police operation in the city, where a number of roads had been closed days before Benedict's arrival, it was unlikely that a more violently inclined opposition to the visit would have succeeded.
One policeman remarked: "I've seen worse at a football match."
FOLLOW THIS TOPIC