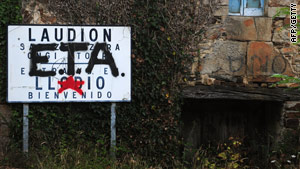 Graffiti in favour of ETA on a sign welcoming visitors to the Northern Spanish Basque village of Llodio.
STORY HIGHLIGHTS
ETA on Sunday offered to meet with international mediators to end violence
Spanish government and most major parties are skeptical
The statement appeared in the Basque newspaper, Gara
Madrid, Spain (CNN) -- The armed Basque separatist group ETA on Sunday offered to meet with international mediators to discuss ways to end decades of violence, according to a statement issued two weeks after the group declared a unilateral cease-fire.
The Spanish government and most major political parties received ETA's September 5 cease-fire announcement to halt "armed offensive actions" with skepticism, saying that the group has used previous cease-fires to regroup its forces for more shootings and bombings.
The Basque Socialist Party in northern Spain and the country's main opposition conservative party said the latest ETA statement also was not enough because ETA still has not announced a definitive end to its violence and a commitment to lay down its arms forever -- the demand of Spain's Socialist government.
The latest ETA statement appeared Sunday in the Basque newspaper, Gara, which often publishes communiques from the outlawed group that the United States and the European Union call a terrorist organization.
ETA is blamed for more than 800 deaths in its long fight for Basque independence.
The latest statement, published in the ancient Basque language, said ETA is willing to meet with a group of international mediators who signed a document in March calling on ETA to declare a "permanent, fully-verified ceasefire."
The 20 signatories to that document, known as the Brussels Declaration, include the Nelson Mandela Foundation and four Nobel Peace Prize laureates, such as John Hume, who participated in the peace process in Northern Ireland.
But various Spanish media that translated ETA's latest statement from Basque to Spanish, said that ETA did not declare a "permanent, fully-verified ceasefire," but instead simply agreed to meet with the mediators to "jointly analyze steps toward a democratic solution to the Basque conflict."
A senior Spanish government official told reporters Thursday that the government would not accept partial cease-fires and statements from ETA now, based on the experience of the failed peace process in 2006.
During a 2006 unilateral cease-fire that ETA had promised would be "permanent," an ETA car bomb at Madrid's airport killed two men, caused extensive damage and prompted the government to halt the peace process.
The latest "cease-fire aims to buy time to rearm ETA," said the senior official, who spoke on condition of anonymity. "The government is not going to talk to ETA under these circumstances."
"The government won't give oxygen to ETA," the official added. "This time, we will do it our way."
The official said the police in Spain and in neighboring France and Portugal, where ETA has maintained rearguard logistics activities, would not let up on the group during the cease-fire.
There are 800 ETA convicts or suspects in Spanish and French jails, the official said, and police pressure has severely weakened ETA, although it still has the capacity to carry out attacks.
A Spanish judge over the weekend remanded to jail nine people arrested Tuesday for suspected links to ETA, the first such detentions since ETA's cease-fire declaration September 5.
Some 3,000 people in Spain's northern Basque region protested those arrests Saturday in peaceful demonstrations, Spanish media reported.
A Basque business owners' association leader said Thursday that ETA extortion letters to Basque businesses and professionals continue to arrive. The letters threaten attacks if thousands of euros, or dollars, in payments are not made to ETA, Spanish media reported.
Government officials have said in the past that such letters indicate ETA is not really ceasing its struggle because the money collected would be used to finance new attacks.
FOLLOW THIS TOPIC