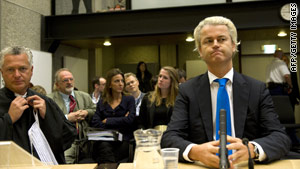 Wilders, pictured in court on Monday, leads the third-largest party in the Dutch parliament.
STORY HIGHLIGHTS
NEW: The trial is adjourned after Geert Wilders's lawyers accuse the judges of bias
Wilders made the controversial film "Fitna," which links the Quran with terrorist attacks
He says he has done nothing wrong
He faces prison time and fines if he is found guilty
(CNN) -- Far-right Dutch politician Geert Wilders went on trial in the Netherlands on Monday, charged with inciting discrimination and hatred over a controversial film he made about Islam.
Wilders' film "Fitna," which he released online in March 2008 to international outcry, features disturbing images of terrorist acts superimposed over verses from the Quran in an apparent attempt to paint Islam as a threat to Western society.
Comments Wilders made in a variety of media between 2006 and 2008 form part of the case against him.
They include an October 2006 interview with the Dutch newspaper De Volkskrant in which he said he wanted to stop the "tsunami of Islamization," and another in September 2007 with Radio Netherlands in which he said the Quran should be banned.

Video: 2009: Geert Wilders' U.S. visit
Wilders says he has done nothing wrong, vowing "I will fight," in a statement on the party's website when he faced a pre-trial hearing in January.
His lawyers Monday accused the judges of bias, prompting the court to adjourn until Tuesday afternoon while other judges review the complaint.
Wilders' Party for Freedom surged in parliamentary elections this June, becoming the third-largest party in the chamber and more than doubling the number of seats it holds.
Its 24 seats were much more than analysts had predicted, but other parties refused to work with Wilders and the center right formed a minority government.
Prosecutors had initially decided not to pursue the incitement case against Wilders, saying in June 2008 that his statements were not liable to punishment, according to the Public Prosecutions Service.
It said that, though Wilders' comments were "defamatory and hurtful to a great number of Muslims," they fell within the limits of free speech.
The Court of Appeals overruled that decision and ordered that Wilders be prosecuted.
In addition to inciting discrimination and hatred, Wilders is charged with offending a group of people, which relates to his comparison of Islam to Nazism.
"According to Wilders, the truth about Islam must be made known, even if it is painful and unpleasant for certain people," his statement on his party's site said.
Wilders' film "Fitna" drew complaints from the European Union and the Organization of the Islamic Conference, as well as concern from the United States.
If found guilty, Wilders faces up to two years in prison and a fine of up to 19,000 euros ($26,000) for each charge.
Journalist Jaap Jansen in Amsterdam, the Netherlands, contributed to this report.
FOLLOW THIS TOPIC