Court orders resumption of Congo war crimes trial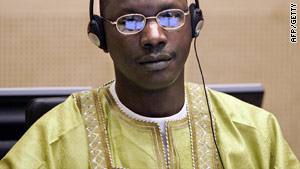 Congolese militia leader Thomas Lubanga Dyilo at the International Court of Justice in The Hague in 2007.
STORY HIGHLIGHTS
The militia leader is accused of conscripting children
The ICC had suspended the proceedings after the prosecution refused to name two witnesses
Appeals judge ruled that the court should have first imposed sanctions
(CNN) -- The International Criminal Court on Friday reversed a decision to release a Congolese militia leader and ordered the resumption of his war crimes trial.
Thomas Lubanga Dyilo has been accused of conscripting children under the age of 15 into the Patriotic Forces for the Liberation of Congo and "using them to participate actively in hostilities in Ituri, a district of the eastern province of the Democratic Republic of the Congo."
The accusation covers the period between September 2002 and August 2003. The trial was the first launched by the ICC at The Hague in the Netherlands last year.
Judges asked the prosecution to release the names of two witnesses. But citing a threat to the security of the witnesses if they disclosed the identities, the prosecution refused.
The court in July imposed a stay of proceedings and ordered Lubanga's release "considering that the fair trial of the accused was no longer possible because the prosecution had failed to implement the chamber's orders." Prosecutors appealed the ruling.
The appeals judge, Sang-Hyun Song said that although "it is undisputed that the prosecutor did not comply with the orders," the trial chamber "erred by resorting immediately to a stay of proceedings without first imposing sanctions to bring about the prosecutor's compliance with its orders," so the decision had to be reversed.
"Sanctions are a key tool for chambers to maintain control of proceedings within the trial framework and to safeguard a fair trial without having to have recourse to the drastic remedy of staying proceedings," Song said.
FOLLOW THIS TOPIC