Officer convicted over shooting that sparked Greek riots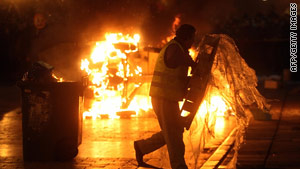 The killing of the boy in December 2008 sparked nationwide riots that continued for several days.
STORY HIGHLIGHTS
Teen's death triggered riots in Greece in 2008
A police officer was found guilty of culpable homicide
(CNN) -- A Greek police officer who shot dead a 15-year-old boy in December 2008, sparking nationwide riots, was found guilty Monday of culpable homicide, the Justice Ministry in Greece said.
The officer, Epaminondas Korkoneas, 38, was implicated in the death of Alexis Grigoropoulos, who died after being struck by a police bullet.
The country erupted in riots and demonstrations after the shooting and continued for several days afterward.
Students led demonstrations against what they called police brutality, while labor unions joined in to protest wage freezes, the rising cost of living, pension cuts and the fear of mass layoffs.
Police arrested hundreds. Shops and banks in Athens were damaged.
Journalist Elinda Laproboulou contributed to this report.
FOLLOW THIS TOPIC