Freed Russian spy now adviser of Russian bank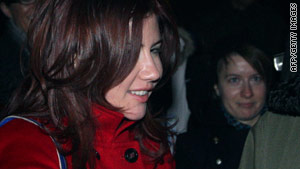 Anna Chapman and 9 others were handed over to Russia by the U.S. in exchange for four Russian prisoners.
STORY HIGHLIGHTS
She's one of the people in the spy swap
The incident was reminiscent of the Cold War
Moscow, Russia (CNN) -- One of the spies freed in a U.S.-Russia swap this summer has been hired as the adviser to a Russian bank, a bank spokesman confirmed on Tuesday.
She is Anna Chapman, one of of the 10 people handed over to Russia by the United States in exchange for four Russian prisoners -- a transfer that conjured the politics and tensions during the Cold War.
Chapman has been hired as adviser of Russia's FundServiceBank's president, Alexander Volovnik, and is responsible for investments and innovations as of October 1.
A written statement published on the bank's website, says that Chapman will be focusing on "IT innovations, and is currently working on a book about the new opportunities that internet offers in that area".
She is also working on a "culturological project related to space exploration," which is why she visited the Baikonur space launch complex recently, the statements says.
"We hope that Ms. Chapman has found a reliable partner for a number of her projects represented by the bank, while the bank itself has acquired an extremely creative and multi-skilled individual who is truly concerned about the future of Russia and the problems of developing its domestic industries.
"Anna's business projects which she manages on her own, have really won our hearts, as have her charity projects which she has implemented without any mention in the media and will undoubtedly continue. Perhaps, some of her projects could have press coverage in the future but it will be totally up to her to decide as to when and how it can be done", the statement says.
The statement also says that Anna Chapman has other projects outside of the bank, and that it is not her only place of work.
.
FOLLOW THIS TOPIC