Turkish leader to boycott meeting if Israeli counterpart attends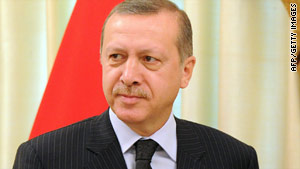 Recep Tayyip Erdogan is angry with Israel over the deadly commando raid on a Gaza-bound aid ship in May.
STORY HIGHLIGHTS
The remarks were made on Skai TV
Israeli-Turkish ties are deteriorating
Israel's relations with Athens are getting closer
Athens, Greece (CNN) -- Turkish Prime Minister Recep Tayyip Erdogan says he won't attend a climate change conference in Greece later this week if his Israeli counterpart is there, Greek TV reported.
Erdogan -- who made the remark Monday to Skai TV -- is angry with Israel over its policy toward the Palestinian territory of Gaza and the deadly commando raid on a Gaza-bound aid ship in May.
Eight Turks and a ninth person with dual Turkish-U.S. citizenship were killed in the confrontation.
"A prime minister who is proud of such an armed intervention is a prime minister with whom I do not agree to talk," Erdogan told the television station, referring to Benjamin Netanyahu.
"On this issue, I think that Israel is close to the point of losing a very important friend in the Middle East and that is Turkey," he said.
"I think that they must pay for this audacity that characterizes the policy of this government."
Grigoris Delavekouras, a spokesman for the Greek Foreign Ministry, said Netanyahu was not on the list of conference speakers.
Israel and Turkey had been strategic allies, with the countries' militaries cooperating closely.
The rift with Turkey began with Israel's 2009 assault on Gaza, which Israel said was necessary to stop rocket attacks from that region. It brought harsh criticism from the international community, which accused Israel of using excessive force.
Erdogan angrily stormed out of a public appearance he had with Israeli President Shimon Peres at the Davos Economic Forum, accusing Israel of war crimes. Turkey also refused to participate in planned joint military exercises with Israel and the United States.
Then came the assault on the Turkish-flagged ship by Israeli commandos and the deaths of the nine Turkish nationals. Israel says it acted in self-defense, accusing the Turkish activists of using violence against the Israeli soldiers. Turkey says the attack was unprovoked and has demanded an official apology from Israel.
However, a warming of relations between Israel and Greece has intensified amid Israel's deteriorating relations with Turkey, Greece's historical rival.
Journalist Elinda Labropoulou contributed to this report
FOLLOW THIS TOPIC