STORY HIGHLIGHTS
Four men are sent to prison for terms of 20 to 22 years
They are convicted of attempted murder for throwing Molotov cocktails at a family's home
A 2-year-old girl was badly burned, losing 80 percent of her skin and three fingers
Discrimination against Roma, or Gypsies, is widespread in the region, experts say
(CNN) -- Four Czech neo-Nazis were sentenced Wednesday to long prison terms and steep fines for an arson attack on the house of a Roma, or Gypsy, family, which nearly killed a 2-year-old girl, the national news agency reported.
David Vaculik, Ivo Mueller, Jaromir Lukes and Vaclav Cojocaru were found guilty of throwing Molotov cocktails at the house in April 2009, in an attack to mark Adolf Hitler's birthday, the Czech News Agency reported.
Vaculik, Mueller and Lukes each were sentenced to 22 years in a high-security prison. Cojocaru got 20 years.
They were also ordered to pay more than 17 million Czech crowns ($968,000) in medical treatment and compensation.
All four men filed an appeal immediately, the agency reported.
The Ostrava Regional Court in the northeast of the Czech Republic found them guilty of attempted murder and damage to property.
Natalka Kudrikova, who was 2 years old at the time of the attack, lost 80 percent of her skin and two fingers (a third was later amputated) and spent months lying in an induced coma after the attack last year in Vitkov, in the Czech Republic.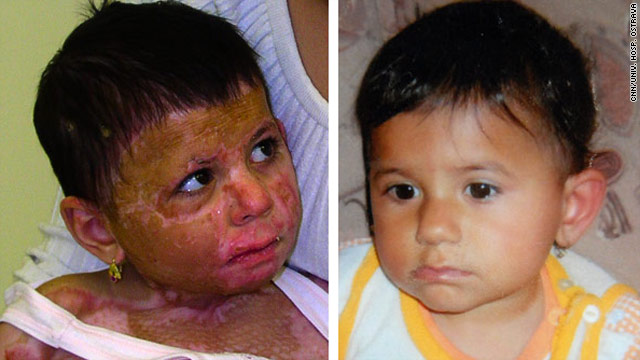 Gallery: Anti-Roma discrimination flares in Europe

Video: Hate attack scarred Roma girl
Europeans with Indian roots
Term encompasses gypsies, travellers, manouches, ashkali, sinti
Biggest ethnic minority in Europe; population about 11 million
Romani language is an Indian-Aryan mix
Source: EU
She has undergone at least 14 major surgeries.
Her family and authorities say she was targeted because they are Roma, or Gypsies.
After police asserted that Natalka's family were victims of a racist attack, many Czechs opened their wallets and their hearts.
Then-Prime Minister Jan Fischer's wife and son spearheaded a nationwide campaign to help them -- a move that led to the Fischer family having full-time police protection after they received anonymous death threats.
Natalka's mother, Anna Sivakova, expressed surprise at the long sentences but welcomed them, the Czech News Agency said.
Prime Minister Petr Necas also praised the result, calling the arsonists' crime serious and reprehensible, the agency said.
Vaculik, Mueller and Lukes got longer sentences than the fourth man mainly because they prepared the attack together and had been charged with violent crimes and promoting Nazism in the past, it added. Cojocaru joined the others at the last moment, the court found.
Court experts confirmed swastikas and other Nazi memorabilia were found in the defendants' homes.
The Czech Republic, like other countries in the region, has a history of violent attacks against Roma, one of the most visible ethnic minority groups in central and eastern Europe.
Surveys show anti-Roma sentiment is widespread. The European Union's website says Czech Romas endure extremely high unemployment rates, low educational standards, isolation, and the prejudices of the majority population.
In the last two years, nine Roma have been killed in Hungary in unprovoked night-time attacks, according to the European Roma Rights Centre.
CNN's Andrew Tkach contributed to this report.