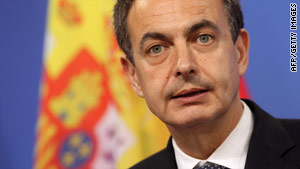 Spain's economic problems have left Zapatero trailing in recent opinion polls.
STORY HIGHLIGHTS
The new first deputy prime minister will be Alfredo Perez Rubalcaba
Foreign Minister Miguel Angel Moratinos replaced by Trinidad Jimenez
Zapatero suffering in the polls because of Spain's economic problems
Madrid, Spain (CNN) -- Embattled Spanish Prime Minister Jose Luis Rodriguez Zapatero, trailing in the polls and squeezed by an economic downturn, announced a broad cabinet shuffle on Wednesday, bringing in new deputy prime minister and a new foreign minister.
Speaking on national television from the prime minister's compound here, Zapatero said the new first deputy prime minister will be Alfredo Perez Rubalcaba, the interior minister who will also retain that post.
He will replace Maria Teresa Fernandez de la Vega, who has been first deputy prime minister since Zapatero was first elected in 2004.
Perez Rubalcaba, considered an effective leader of the government and police campaign against the armed Basque separatist group ETA, is no stranger to the prime minister's sprawling compound on the western outskirts of Madrid. He worked there years ago as an aide to then Socialist Prime Minister Felipe Gonzalez.
Zapatero also confirmed that Foreign Minister Miguel Angel Moratinos, also part of Zapatero's team since 2004, will be replaced by longtime Zapatero aide Trinidad Jimenez, currently health minister.
"This is the government for reforms and economic recovery and employment," Zapatero said, officially announcing the shakeup that caught most of Spain by surprise. Spanish media earlier Wednesday began reporting the expected changes.
Spain's deep economic crisis, its slow recovery and 20 percent unemployment rate have battered Zapatero, now in his second term. He is far behind the conservative opposition candidate in the polls. Elections must be held no later than 2012.
Zapatero has been under pressure from many Socialist party leaders to conduct a major cabinet shuffle. These calls intensified after Zapatero's traditional allies - Spain's two main trade unions - staged a national strike on September 29 to protest the government's labor reforms and austerity measures to combat the economic crisis.
As part of the shakeup, Zapatero aims to save public funds by eliminating two small ministries, the Ministry of Equality, and the Ministry of Housing. They will be become departments of other ministries.
Spain on Wednesday had simply been expecting the announcement of a new labor minister, following Zapatero's pledge, before the general strike, that Labor Minister Celestino Corbacho would be leaving. His replacement is Valeriano Gomez.
Instead, Zapatero announced the much broader changes. They include the creation of a new Ministry of the Presidency, led by Ramon Jauregui, to handle some duties of the outgoing deputy prime minister. There is a new minister of environment and agriculture, Rosa Aguilar, and a new minister of health, Leire Pajin, portfolios which require constant contact with domestic voting constituencies that Zapatero is trying to shore up.
Zapatero said the new team has "good communication skills to explain what we are doing."
Zapatero also said his budget for 2011 now is "guaranteed" of approval in parliament after his Socialist party has made deals for budgetary support with two smaller parties, the Basque Nationalist Party and the Canaries Islands Coalition.
The cabinet shakeup does not affect Zapatero's economic team, which itself was shuffled last year when the finance minister was replaced, nor the defense ministry.
Zapatero said he had informed King Juan Carlos, who is head of state, about the changes.
FOLLOW THIS TOPIC