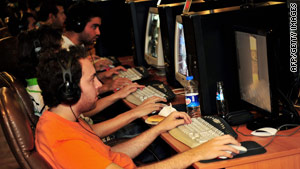 YouTube has been blocked in web cafes in Turkey since 2007.
STORY HIGHLIGHTS
Turkey banned access to YouTube in 2007
The ban followed complaints about videos ridiculing the founder of the Turkish Republic
Access has been restored after the videos were removed by a company outside YouTube
But internet censorship remains a problem in Turkey, activists say
Istanbul, Turkey (CNN) -- For the first time since 2007, internet users in Turkey have access to YouTube.
The Turkish government blocked the popular video-sharing website nearly two and a half years ago. That decision stemmed from complaints about videos on the site that ridiculed Mustafa Kemal Ataturk, the much-revered founder of the Turkish republic. According to Turkish law, it is illegal to insult Ataturk.
"The block was put in place by a local prosecutor who demanded that we remove a number of videos from YouTube.com, our global service, because they were illegal under Turkish law -- even though we had made them inaccessible to users in Turkey," explained Scott Rubin, a spokesman for YouTube's parent company, Google, in an e-mail to CNN.
"We refused because we do not believe that Turkish law can or should be applied outside Turkey."
The YouTube ban has been criticized by free-speech groups and by the Organization for Security and Cooperation in Europe. Turkey's president has even weighed in, albeit digitally.
"I won't approve Turkey to be in the category of countries that ban YouTube, prevent access to Google. Legal ways should be found," Turkish president Abdullah Gul announced on his Twitter account on June 4.
"Turkey is a country that integrated with the world. Such bans would block integration with the rest of the world," Gul wrote in a later Tweet.
The YouTube ban was imposed because of complaints over 10 videos that allegedly insulted Ataturk, according to Turkish officials. Government agencies were finally able to clear the deadlock last weekend when a company in Germany intervened by claiming copyrights to the controversial videos and removing them from the website.
"The police confirmed that the videos were removed," said Guleser Aykara, a spokeswoman for Turkey's Information and Communication Technologies Authority.
"Then it [YouTube] was opened within 24 hours."
Internet freedom activists warn that Turkey still has a long way to go before it provides uncensored access to the internet.
"It's a face-saving solution," said Mustafa Akgul, president of Internet Technologies Association, a civil society group that has organized rallies for free speech and internet access.
"It did not address the main problems, the main questions of internet censorship."
According to engelliweb.com, the website of another Turkish internet freedom association, the Turkish government has banned access to at least 7,885 web-sites. The crackdown began after the government drafted Law 5651, which governs the internet in Turkey.
A cursory glance at engelliweb.com, Turkish for "disabled web," shows that many of the banned sites have addresses like "boyseducemom.com" and "nylonstockingspics.com" and appear to peddle pornography.
"We do not give numbers about how many sites are not accessible but we share the information that 90 percent of this is related to child abuse and pornography," said Aykara of the Information and Communications and Technology Authority. "Ten percent is about insulting Ataturk and 1 percent is about various other reasons."
Aykara said her agency responds to complaints filed via a telephone hotline. She also said sites can be closed if they are deemed to commit the crime of "insulting an individual."
The "personal insult" crime was used to ban access to the website of Richard Dawkins, a British biologist and outspoken atheist. The case was reportedly brought against Dawkins' site by Adnan Oktar, a Turkish academic -- backed by an extremely active public relations department -- who promotes creationist theory.
Several customers in a small second-floor cyber cafe in downtown Istanbul said they opposed the YouTube ban, but added that there were times when website censorship was justified for national security reasons.
"Turkey has a lot of enemies. Terrorist groups have propaganda websites. They brainwash people," said 25-year-old Kaya Simsir, who was hunched over a cubicle while waiting for results of a job-placement test to come through. "I am not against restricting bad content."
Other customers admitted that they often circumvented the Turkish government's digital firewalls through alternate proxy servers.
"Even small children know how to get through," said Kahraman Ince, a 19-year old university student.
Turkish internet users may soon find themselves once again using alternate routes to reach YouTube.
A spokesman for the company said the controversial Ataturk videos were once again back on the website.
"We found the videos were not in fact copyright infringing, so we have put them back up though they continue to be restricted within Turkey," wrote Google spokesman Scott Rubin in his e-mail to CNN. "We hope very much that our users in Turkey can continue to enjoy YouTube."
FOLLOW THIS TOPIC