STORY HIGHLIGHTS
Kate Middleton grew up in the small village of Bucklebury, England
She met Prince William when both were at university in Scotland
The couple broke up for a short time in 2007 amid intense media attention
Thoughts turn now to a royal wedding and more speculation about her future role
London, England (CNN) -- The woman set to walk down the aisle with the second in line to the British throne is the daughter of self-made millionaires from rural England.
Kate Middleton, 28, grew up in a small village of thatched cottages in Bucklebury, around 45 miles west of London.
One of three children, Middleton completed her schooling as a boarder at the prestigious Marlborough College before taking a degree in History of Art at St. Andrew's University in Fife, Scotland, in 2001.
It was there that she met Prince William, the 19-year-old son of Prince Charles, the heir to the British throne, and Princess Diana.
Prince William engaged to Kate Middleton
Both were studying art history when they met, but Middleton is said to have played a key role in encouraging the prince to switch to a degree in Geography in his second year.
The students grew closer after moving into a shared house with two other friends and were said to have started dating in late 2003.
Their status as a couple was made public in March 2004 when they were photographed holidaying together in the Swiss ski resort of Klosters.
That first photo marked the beginning of Middleton's fraught relationship with the British tabloid press. Her lawyers filed their first complaints about media intrusion in 2005.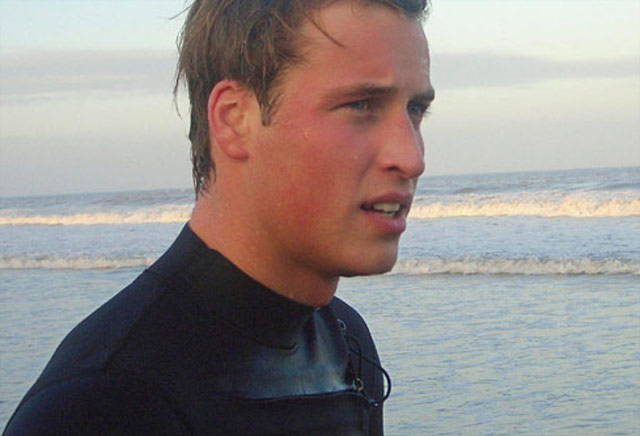 Gallery: Prince William: Heir's life in pictures

Gallery: Prince William and Kate: A royal romance
Such was the level of media interest in the girl "who could be Queen" that in 2007, the Guardian newspaper reported that Middleton, "ran the gauntlet of more than 20 press photographers and five television crew as she emerged from her flat."
It was her birthday and rumors had spread that the prince would mark the day with a proposal.
In February, the incident was quoted during a UK parliamentary inquiry into the self-regulation of the press and the efficacy of Britain's Press Complaints Commission Code of Practice.
In his testimony, The Sun newspaper's royal photographer Arthur Edwards described Middleton's frequent run-ins with the paparazzi.
"She has been stopped at traffic lights, where they climb off their motorbikes and start photographing her. She has been out shopping in stores and they run into the stores after her. She uses public transport a lot -- or she did -- but they climb on the buses and the bus driver is having to throw them off," he said.
The proposal never came and one month later, "Kate and Will" were back in headlines as it emerged that their four-year relationship was over.
UK's Prince William lives life in spotlight
The split was said to be amicable with the couple determined to remain friends.
She uses public transport a lot -- or she did -- but (the paparazzi) climb on the buses and the bus driver is having to throw them off."
--Royal photographer Arthur Edwards

Britain's Prince William is engaged

New world awaits Kate Middleton

Kate Middleton's parents addresses media
At the time, photographer Arthur Edwards told CNN that the couple's ages and constant media attention took their toll.
"William has said 28 is a good time to get married -- 28 to 30. Now, that's a few years off yet and I don't think she wants to put up with that for the next four or five years, every morning coming out of her house going to her office having those problems, and I think she just thinks enough's enough," he said.
Royal commentators speculated that the split was due to the class divide between the prince and his middle-class girlfriend. Middleton's mother is a former air stewardess and her father worked as a pilot before they set up their own business. Kate is the eldest of their three children.
Despite conjecture over the cause of their split, the pair remained close. In July 2007, Middleton sat in the royal box at Wembley Stadium in London for the Concert for Diana, a massive charity concert to remember Prince William's mother, Princess Diana, 10 years after her death in a car crash.
The two were seen together several times over the summer and were dating again by the end of 2007.
Around the same time, Middleton resigned from women's fashion chain Jigsaw, where she started working as an accessories buyer after graduating from university in 2005.
She is now said to be working with her parents selling children's party supplies through a successful online business.
Her re-emergence as a potential future queen also revived media interest in her and in 2008 she made Vanity Fair's international best-dressed list behind U.S. First Lady Michelle Obama and her French equivalent Carla Bruni-Sarkozy.
Media speculation this April of a proposal in June invited another round of rumination about their relationship and its potential longevity.
Now that the prince has finally popped the question, the discussion can move on to new questions including, 'When will Kate be Queen?' That one could keep pundits and the people occupied for years.
FOLLOW THIS TOPIC