STORY HIGHLIGHTS
One charity says 200,000 failed asylum seekers in Britain are destitute, hungry and vulnerable
Four failed asylum seekers describe how they travelled to England and how they survive
They say they feel UK government has let them down by failing to give them benefits
Failed asylum seekers must cope with intolerance, hatred and violence on the streets of Britain but they must also survive without state benefits, shelter or the right to work. Here, four people describe how they live on £10 food vouchers from the British Red Cross. All names have been changed to protect their identities and ensure their safety.
Birmingham, England (CNN) -- High up in a tower block in a grim suburb of Birmingham, central England, Shoorai feels cold and vulnerable in the storage cupboard where she sleeps and worries how she will survive the approaching winter.
The cupboard is located outside the lifts on a public corridor, which reeks of cannabis smoke. Intimidating youths lurk in its doorways. Shoorai is scared here, but she says her lonely existence here is still preferable to being sent home.
The 38-year-old sleeps here because her claim for asylum in Britain has been rejected, meaning she gets no benefits or shelter. She says she cannot -- or will not -- return to Zimbabwe, from where she fled in 2006, because "the situation was even worse back home. People were beaten ... people were killed and they were tortured."
"I don't want to be returned to Zimbabwe. They will kill me," Shoorai, originally from Bulawayo southern Zimbabwe, adds.
Tell us about your migration. Send us your stories, images or video
Wasn't life in England supposed to be better than this? Close to tears, she says: "Yes I thought so, but it's no longer better because I am suffering ... I don't have a shelter. When it's cold I come inside and sleep here, take my blankets."
And Shoorai is far from unique. According to one leading charity, more than 200,000 failed asylum seekers in Britain share her plight: destitute, hungry and vulnerable.
Which countries are most 'welcoming' to asylum seekers?
The quietly spoken mother of three says she ran away from Zimbabwe in 2006 after she heard that as an active member of the MDC opposition party, there were people searching for her. She went first to South Africa, and then, using a short-term visa, she travelled to Britain where she claimed asylum from persecution under United Nations guidelines.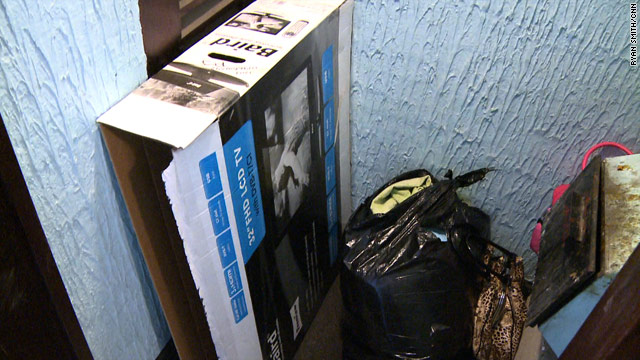 Gallery: Tough lives of failed asylum seekers
Her asylum application was rejected by the Home Office, which handles immigration matters, and she has made fresh claims. "I'm waiting for their reply," adding pessimistically, "I don't know if it will be successful though because everyone is getting refused."
'Failed' UK asylum system remains battleground
In the meantime, as she waits desperately for news that she can stay in Britain, Shoorai sleeps anywhere she can find, complicating her treatment for high blood pressure.
"Sometimes I go to friends' houses where I can sleep. Sometimes I spend five days without taking the tablets. My friends need privacy if they have their boyfriend there so I have to go back [to sleeping in the corridors]. I was chucked out of the house ... I was in pain and cold. I didn't have anywhere to sleep."
Shoorai's situation is made even worse by the guilt she feels at not being home to look after her children, one of whom has been raped.
"My kids are suffering. The [state] used to give me £42 which I used to send them. But the £10 ($16) vouchers I get [every week from the British Red Cross] are not enough," she tells CNN, but adds that she still refuses to beg.
Mudiwa, from Harare, describes the grim reality of living on the streets in the starkest terms. She is reliant on the good will of people for shelter and food but is aware that men may want something in return. Also she is terrified that with the Home Office stepping up efforts to deport her, she will be turned in to the authorities at any time.
The 36-year-old came to Britain from Zimbabwe in 2000 because she feared political violence at home as President Robert Mugabe's ZANU-PF party mounted its campaign of intimidation against opposition supporters.
"We used to get beaten and myself and other people were gang raped," Mudiwa tells CNN. She travelled to the UK on a tourist visa, but did not immediately claim asylum for fear of being sent home.
Mudiwa eventually applied for asylum in 2006 but it took three years before she heard that her claim had been rejected. She was then kicked out of her house, and has since lived with several people. She has abandoned her studies in occupational therapy and says she has health problems.
"Now the Home Office told me I am up for detention," she says. "So I don't feel safe, I am always scared and I am even scared to talk to other people. If they know my situation they might report me."
Mudiwa says she cannot return to Zimbabwe, but the situation in the UK is putting her in danger. "I just live with different people now: last night I just slept in this other man's house and it's just not right.
"He goes to work at 6 o'clock in the morning. That's when I have to wake up and come back whenever he comes back. Making me destitute is making me so vulnerable to men. Most of my friends I used to have, now they don't speak to me, I just feel left alone."
I just live with different people now: last night I just slept in this other man's house and it's just not right
--Mudiwa, asylum seeker from Zimbabwe
The situation for female asylum seekers is made even worse, Mudiwa says, because there are no women-only hostels. She says she went to one in Coventry but felt uncomfortable there because there were spaces for only two women, and no privacy.
And worse, the bed linen was not changed regularly. She describes -- half in shame, half horror -- how she even developed a skin disease while she stayed there. She had to leave.
Back on the streets, CNN accompanies Mudiwa to a supermarket where she spends the £10 Red Cross vouchers on baked beans, nectarines, juice, noodles, sanitary products and a chicken pie. It may not seem different to many people's shopping, but this must last her all week. "There isn't really much to choose. I keep eating all the same things because that's what I can manage."
Mudiwa rejects accusations she is here to live off benefits, and indeed she says she gets none. "I don't even know the last time I had cash in my hand," she tells us. "I can't even manage ... because it is so stressful.
"Some people don't understand what an asylum seeker is. They think we're just here to live good or wanting to be in a good country. But that is not the situation. Given the situation in Zimbabwe ... what it was before ... we'd all prefer to be home."
She says she would love to return home, but on her own terms. "Even if they didn't give me indefinite leave to remain (in the UK) they could give me a work permit, so I could rebuild my life to settle somewhere in Africa where I can ... support myself in a decent way. I don't ask for more."
But she says she cannot return to Zimbabwe immediately because of the political violence in her country. "Life would be no better if I returned."
Nadifa, from Mogadishu, is carrying all her worldly possessions when CNN meets her at the Red Cross destitution clinic in Birmingham. Wearing clothes given to the charity, she is holding a bag of drugs for medical conditions that she says have been exacerbated by living on the streets for four years.
The diminutive 35-year-old says she came to the UK in 2005 as her country descended into violence and anarchy. "Somalia is getting worse day by day," she says through an interpreter. "People are killed every day. My father was killed in 2008, my uncle was killed recently. My brother and sister ran away. I'm worried they may have been killed too."
I get £10 vouchers from the Red Cross. I don't have anywhere to cook so I buy food that I can eat there: mainly bread and jam, because it'll last all week, and bananas.
--Nadifa, asylum seeker from Somalia
Nadifa says she travelled to the UK by stowing away in a container on a ship with the help of a "good Samaritan" in Somalia, and that although some women helped her when she arrived in England, she was soon abandoned to the streets.
She says the UK Border Agency provided food and shelter for a year, but after her asylum claim was rejected, she has been destitute for four years while she appealed. She has been living on charity donations during this time, she says.
"I get £10 vouchers from the Red Cross. I don't have anywhere to cook so I buy food that I can eat there: mainly bread and jam, because it'll last all week, and bananas."
Nadifa says she has lived on the streets for years, and is always on the lookout for other Somalis who may let her sleep on their floors; the rest of the time is spent just walking around Birmingham trying to keep safe.
But despite fleeing from violence in chaotic Somalia, she has experienced plenty of it in Britain. "I've seen a lot of abusers on the street, and if people know you are homeless, you'll get violence," she says, before showing CNN a wound on her arm that she says is a result of such an attack.
"Sleeping in the street in England is still better than being in Somalia, because there I'll be persecuted. Even £10 a week is more than I'd get in Somalia. Women are being raped there." However she feels let down that Britain does not provide more for her. "Now I am epileptic and depressed," she says. "I don't know where it's going to end. The state has let me down."
There is almost a Catch 22 feel to the story told by Asad, from the Somali city of Kismayu.
The affable young man says while he was seeking asylum, the Home Office demanded he must have an address so they could send correspondence to him about his claim. He moved in with a compatriot in Birmingham who let him sleep on his floor, but Asad says the Home Office then told him his host must in fact be a relative and threw out his claim.
Asad also describes without bitterness the hurdles asylum seekers must overcome as they try to persuade authorities in Europe to grant them refugee status. He says everyone knows his country is violent and war torn, but the Home Office demands proof. Such evidence is difficult to gather, even more so for Asad, who suffers from chronic disease that his junk food diet does little to help.
At home in Somalia, you cannot gather any evidence, because there is no post, no communications. But the Home Office wants this evidence. I'm still trying to find it ... everyone knows about it, but they want more proof.
--Asad, Somalian asylum seeker
"The situation is not good in Somalia," he says. "People are still fighting. There is tribal war -- people are still dying. Everybody is involved, even the innocent, and many people are displaced."
The former fisherman says he sought asylum in the UK in 2008 after travelling by sea to Europe and then hitching rides. "I hoped it would be better but there was no support." In Britain "they started to process my application but they refused it. They gave me more time, but stopped my support. They said I had to prove more. I have no problem with that. But because I have problems with my stomach, I didn't have time to collect proof."
"At home in Somalia, you cannot gather any evidence, because there is no post, no communications. But the Home Office wants this evidence. I'm still trying to find it ... everyone knows about it, but they want more proof."
The 34-year-old says then they told him that because his health was good -- something he denies -- he must return home.
Despite these difficulties, Asad remains upbeat. He says he has only the Red Cross food vouchers to live on, but he won't work or beg because that could affect his asylum claim if he is caught. And he is at pains to stress that he has never resorted to theft.
Without a home or financial support, the priority is to find somewhere safe to sleep. So Asad stays in several places, rotating them so as not to attract attention. He takes CNN to see the public park in a Birmingham suburb where he sleeps most often. He keeps his mattress and blankets under a hedge and when the park is deserted he goes to "sleep alley," as he calls it, where he beds down.
He knows of course that many people think asylum seekers are just "spongeing" off the state, but Asad says grimly: "You can't understand how I live on £10 a week."
But despite his woes he remains glad he made the journey to Britain, because "it is safe here." But with no work to keep him busy he finds it hard to fill his days. "I like to do things," he says, adding: "I miss my old life ... I miss it a lot."
FOLLOW THIS TOPIC